Commercial Outdoor Umbrellas Los Angeles
Strength and durability are the main characteristics of American Holtzkraft commercial outdoor umbrellas. No matter what type or size of space you are working with in Los Angeles, we have umbrellas that will meet your requirements and exceed your expectations.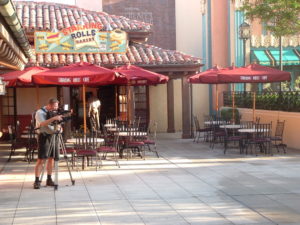 American Holtzkraft is a female-owned business founded in Mount Pleasant Mills, PA, in 1985 to take advantage of the plentiful high-quality hardwood and famous Pennsylvania Dutch craftsmanship in Pennsylvania to produce the finest market umbrellas, cabanas, daybeds, site furnishings, and accessories in the industry.
Frequently Asked Questions (FAQs) About Outdoor Market Umbrellas
Q: How do I choose the right sized umbrellas?
A: To make your outdoor umbrellas functional and stylish, they need to be the right size. This is determined by width, not by height. American Holtzkraft umbrellas are measured from tip to tip along the ribs. A good rule of thumb is to have a canopy two feet wider than the diameter of the space (or table) you want to cover. If you are unsure about what size would work for you, enlist the help of the American Holtzkraft team. We will offer you expert service and create a shade plan that meets your needs.
Q: How strong are American Holtzkraft outdoor market umbrellas?
A: We boast "the original steel pipe reinforced laminated pole", which provides tested strength in comparison to the thin steel rods used by some manufacturers. North American Hardwood Ash (also used for baseball bats) is dried and cut lengthwise and horizontally laminated with marine grade glue that has been tested for outdoor use.
Q: Are your umbrellas wind-resistant?
Yes! Our method of addressing the stress applied to umbrella mechanisms is protected by our Patent #5020557. We are proud of the results of our official wind tunnel test performed by a respected university, which achieved an impressive 74.5 mph before any failure. Complete test results for most umbrella models are available upon request, with a video of various tests for your viewing pleasure.
Q: Can you customize market umbrellas?
A: Yes! A significant distinction between American Holtzkraft and our competitors is that we welcome the challenge of custom designing whatever you need. From umbrellas to site furnishings, we can conceptualize and create special pieces for your outdoor spaces. We can also screen print your logo directly onto your umbrellas, making your business easily recognizable and helping you attract new customers.
Q: What should I do if my umbrella needs repair?
A: At American Holtzkraft, we believe our umbrellas are the finest in the world, and we want to keep them looking their best. Our strengths include umbrella inspection, replacement of in-stock parts, repair, refinishing, and sewing when and where necessary. Our skilled and highly capable service center staff can also refinish and refurbish almost any type of wood or metal outdoor furnishings.
The beauty of American Holtzkraft commercial outdoor umbrellas is immediately apparent. We can help you find the perfect umbrella to meet the needs of your restaurants, resorts, or theme parks in Los Angeles. Visit our website to learn more about them, or get in touch with us at (570) 539-8945 to place an order.