Commercial Outdoor Umbrellas Massachusetts
Invest in quality commercial outdoor umbrellas for your hospitality business in Massachusetts. American Holtzkraft will provide a custom solution to meet the needs of your business – both design and purpose-driven.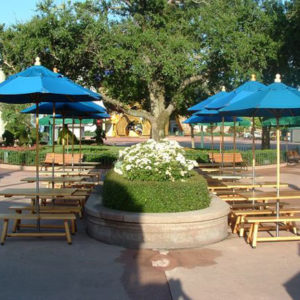 Many businesses throughout the world rely on the high-quality market umbrellas produced by American Holtzkraft. Examples of the industries we serve include:
theme parks
water parks
hotels and resorts
restaurants and restaurant chains
yacht clubs
country clubs
cruise ships
other hospitality businesses
At American Holtzkraft, we call Mount Pleasant Mills, PA, home. As a female-owned business in operation since 1985, we're dedicated to quality and innovation.The quality artistry of the Pennsylvania Dutch population and the strength and durability of the Northern Ash hardwoods found in the area come together to help us produce our market umbrellas, cabanas, daybeds, and other custom site furnishings.
We pride ourselves on innovative solutions to outdoor hospitality, and we hold six different patents and have been honored repeatedly throughout the years for the quality of our designs.
The Full-Service Nature of American Holtzkraft
In addition to custom site furnishings, we also refurbish, inspect, and repair your older pieces that need a second life. Our staff is skilled and experienced in site furnishings for hospitality ventures and will eagerly help you identify needs and suggest the best purchases for your business.
Made in the USA
American Holtzkraft products are made in the USA and hand-crafted by artisans who pay attention to every detail and perfect every product.
The products are made to last. We use the hardest of the hardwoods that grow in the US, the Northern Ash, and every other single piece of our market umbrellas is thoughtfully chosen and specially treated to further its life even further.
Exposure to weather is a given for market umbrellas. The elements may differ from rain to frost, wind, and sun exposure, but the stress is still present. The canopies on our market umbrellas resist mold and mildew growth, staining, and fading. Furthermore, we have patented designs to resist wind damage, including a rotating canopy and dual venting.
Consider the quality components of our umbrellas. From stainless steel hardware to aluminum flush pole guards and solid brass brackets, grommets, and screws, all pieces are designed to thrive outside and avoid damage to the fabric during regular use.
The fabric selection for market umbrella canopies offered by American Holtzkraft is comprehensive. Regardless of the color, texture, or design you choose, we can supply them. You can also select unique sewing patterns with added trims, panels, pleats, and valances, or you can screen print your logo directly onto the canopy of the market umbrellas.
Customize your American Holtzkraft set of umbrellas or other site furnishings. Come to us with a concept, and we'll fulfill the request.
American Holtzkraft is known for quality, so when you order commercial outdoor umbrellas for your Massachusetts business from us, you can be confident in the results. For round (octagonal), rectangle, square, or decagon umbrellas in a wide range of sizes, reach out to us online or by calling (570) 539-8945. You can also peruse our online catalog at your leisure.