Commercial Outdoor Umbrellas Ohio
Harness the style, functionality, and durability of commercial outdoor umbrellas made by American Holtzkraft for your hospitality business in Ohio. Whether you manage a theme park or a cafe, call on us for the perfect site furnishings.
The American Holtzkraft Story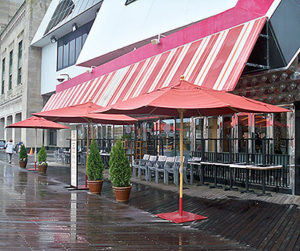 Since 1985, American Holtzkraft, a female-owned company, has produced lasting, appealing, functional market umbrellas. We make good use of locally grown Northern Ash hardwoods, unique and innovative designs, and craftsmanship provided by the area's Pennsylvania Dutch population.
Well-Designed, Custom Market Umbrellas Make a Statement
Market umbrellas are essential from the country club to theme parks and other hospitality venues. Patrons will require shade during these outdoor activities, and the choice you make will reflect on the quality of your establishment.
Quality market umbrellas take the extremes of usage and weather exposure without experiencing damage. We commit ourselves to producing well-made market umbrellas that are durable, hand-made, and personalized to fulfill specific requests. Our excellent reputation speaks to this commitment.
When you purchase a market umbrella, it will have either an aluminum or wooden pole. The Northern Ash hardwood we use is slow-dried with a kiln and then stained with your choice of finish. We apply multiple coats and use an aluminum pole flush guard to prevent warping and breakage.
American Holtzkraft market umbrellas are known in particular for wind resilience. We offer the option of incorporating a rotating canopy and double venting to reduce the stress that windy conditions place on the umbrella. This patented technology allows our market umbrellas to withstand wind speeds up to 74.5 mph before experiencing any damage during wind tunnel testing.
Clients can completely customize the canopy. The color, texture, and logo features are all up for personalization. We can even modify the pleating to make your umbrellas thematically similar and unique. Failing to use this as a branding opportunity would be an opportunity missed.
The fabric used to create these canopies is treated to be UV resistant, stain-resistant, fade-resistant, and weather resistant.
Quality market umbrellas are a wise investment. They'll last for years and reflect a measure of quality on your venue as well. As your market umbrellas eventually show signs of age, call on us to refurbish them.
The catalog of market umbrellas we offer is quite diverse. The hallmark of our catalog options is safety. We will not produce any products we believe to be questionable concerning safe use.
Part of this safe use is the stand. We supply umbrella stands for various environments, depending on where the market umbrellas will be used. With American Holtzkraft stabilization systems, market umbrellas will stay upright
If your search for commercial outdoor umbrellas for your business in Ohio has stalled, give us a call. The staff at American Holtzkraft will be happy to walk you through our online catalog, listen to your needs, and make suggestions for potential solutions. From market umbrellas to daybeds, cabanas, and custom site furnishings, our efforts are sure to meet the needs of your outdoor spaces.