Commercial Outdoor Umbrellas Orlando
American Holtzkraft commercial outdoor umbrellas provide guests at the most prestigious hospitality venues in Orlando and the world over with comfort and protection.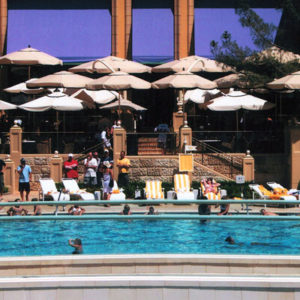 A woman-owned small business, American Holtzkraft began producing premium market umbrellas in 1985. By leveraging the bounty of local Northern Ash hardwood and the workmanship of the Pennsylvania Dutch population, we have been able to apply our unique designs in a quality fashion to outperform the competition. Clients come to us to outfit elite venues with market umbrellas, cabanas, daybeds, accessories, and site furnishings.
When guests arrive at a resort, hotel, or another venue, the market umbrellas on the property substantially affect their impression of the space. The shade the umbrella provides is also an essential part of the comfort of these guests. Having a quality market umbrella in outdoor areas meant to welcome guests is vital.
Restaurants, pool areas, hotels, resorts, country clubs, theme parks, and other hospitality businesses require our products. If you have a specific type of site furnishing in mind, reach out to us with your preferred specifications. We'd be honored to surpass your expectations with customized market umbrellas and other luxury or functional outdoor site furnishings.
Identifying Quality Market Umbrellas
Market umbrellas are far different than the average patio umbrella. Commercial market umbrellas have a strong base that stabilizes them and prevents them from tipping over. American Holtzkraft market umbrellas have been proven to be stable and upright, and we have appropriate stabilization measures for all environments and applications.
The frame that supports the canopy must also be strong. We use aluminum to provide durability and strength to the umbrella. Our innovations have resulted in six separate patents being held by American Holtzkraft.
A rotating canopy and dual vents allow our umbrellas to resist wind damage. This fact has been proven in wind tunnel testing, up to 74.5 mph winds before any damage occurred.
The mechanism that opens and closes the canopy must be smooth and predictable.
The canopy should be made of fade-resistant, strong, UV protectant fabric. It should also be easy to clean and resistant to the growth of mold and mildew. American Holtzkraft provides plenty of fabric design and texture choices, but the quality is always the best.
The ability to customize market umbrellas is another sure sign of quality. In addition to a choice of canopy fabric, we also provide an application of brand logos, many sizes and shapes, aluminum or wooden poles, and a selection of finish on the pole.
We preserve kiln-dried Northern Ash hardwood, the hardest of the hardwoods grown in North America, with stain and your choice of finish.
When you purchase American Holtzkraft market umbrellas, the quality will be unquestionable, and our service center will be available to help maintain them. We have a team of service staff that specializes in repairing and refurbishing all sorts of site furnishings.
An additional service provided to Florida clients includes a SAM visit where we'll evaluate the Safety, Aesthetics, and Maintenance of your outdoor space.
Executives, designers, landscape architects, and others seeking commercial outdoor umbrellas for venues in Orlando should call the team at American Holtzkraft. Our mission is to help match your needs with the perfect customized site furnishings. To find out more information, reach out online or give us a call at (570) 539-8945.