Commercial Outdoor Umbrellas Pennsylvania
Welcome guests into your outdoor commercial space in Pennsylvania with umbrellas made by the best in the business – American Holtzkraft. Our ingenious design, world-class workmanship, and top-of-the-line components provide all sorts of hospitality businesses with beautiful site furnishings.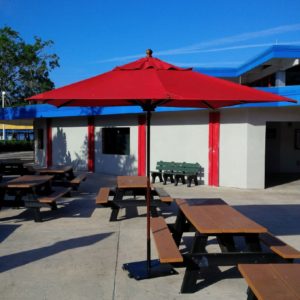 American Holtzkraft is proud to be a female-owned company, producing market umbrellas since 1985.
Choose American Holtzkraft:
Producers of the best-made market umbrellas, cabanas, daybeds, and other site furnishings.
State-of-the-art design for longer-lasting and wind resilient umbrellas.
Workmanship by the craftsman among the Pennsylvania Dutch population.
Wooden poles made from the hardest of the North American hardwoods, the Northern Ash.
Textile features of the highest quality in many colors, designs, and textures with customizable pleating and stitching options.
Square, rectangle, decagon, and octagon-shaped canopies available.
Logo embellishment is available.
How to Plan Your Market Umbrella Purchase
The shortest path from one point to another is a straight line. Call us directly for the ideal market umbrella order. We'll help plan the perfect design, estimate the number of umbrellas required, and even arrange the ideal layout based upon the square footage of the area, the size of the tables, and the purpose of the space.
Our crew of professionals can help ensure that your order meets your needs, and we stand behind every order. When we make mistakes, we make them right, every time.
The durability of American Holtzkraft umbrellas is a strong selling point. Market umbrellas must be built to last. They're exposed to the ravages of sun, precipitation, and wind, and they must look fresh, clean, and new. Invest your money in American Holtzkraft umbrellas, and you won't regret it.
Fade-resistant canopy
Mold and mildew resistant canopy
Easily cleaned canopy
Rust-resistant pole
The pole of your market umbrella can be made from aluminum or wood. Our wooden poles are Northern Ash, kiln-dried, and stained with your choice of shaded finish. Wooden poles provide a more permanent positioning, and aluminum poles are more appropriate for mobile use of market umbrellas.
Customizing the market umbrellas for your business can further unify a marketing campaign designed for customers to associate your logo with your products or service. You can do so with subtle color choices or make the branding more explicit with logos added to your market umbrellas' canopies.
Market umbrellas from American Holtzkraft are the ultimate in safety. With a freely rotating canopy and dual venting, our umbrellas stand up against robust winds. Other umbrellas could go flying or collapse, but ours are stable.
The American Holtzkraft commitment to quality and service is second to none. We back all of our products with service designed to earn customer satisfaction. If your products have an unexpected defect, call us, and we will make it right.
Our services also include refurbishment and repair. We have a large center for this sole purpose. The Florida segment of our clientele can schedule an on-site consultation to evaluate and remediate any deficiencies in Safety, Aesthetics, and Maintenance (SAM).
An established, credible name in the commercial outdoor umbrellas arena, American Holtzkraft of Pennsylvania, invites you to browse our online catalog and give us a call at (570) 539-8945 to arrange for any site furnishings you need to outfit your business with style, comfort, and protection.