Commercial Outdoor Umbrellas San Francisco
Are you looking for commercial outdoor umbrellas to provide guests at your hotels, restaurants, resorts, or theme parks in San Francisco with shade and comfort? American Holtzkraft manufactures the products you need.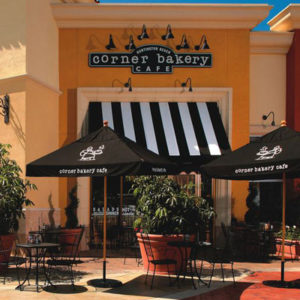 Headquartered in Mount Pleasant Mills, PA, American Holtzkraft is a female-owned business founded in 1985 to take advantage of the abundance of high-quality hardwood in Pennsylvania and the well-known Pennsylvania Dutch craftsmanship that produce the finest market umbrellas, cabanas, daybeds, site furnishings, and accessories in the industry.
From the logistics of fulfilling your order to inspecting, replacing parts, repairing, refinishing, and sewing our umbrellas when and where necessary, our team will help you find just the umbrellas you are looking for, from traditional wooden umbrellas to synthetic and aluminum umbrellas, and address all of your concerns.
What Sets American Holtzkraft Apart
Made in America: American Holtzkraft proudly handcrafts our umbrellas in the USA with exceptional attention to detail. The craftspeople who work with us take great pride in their work and many of the design elements that make our products unique are patented to protect their originality.
Durable: Our market umbrellas are constructed with Northern Ash, the hardest wood grown in the United States, and are built to last. Our original market umbrella design rotates around the axis of our steel-reinforced pole, dissipating stress and excess wind through the canopy rotation. This ingenious way of addressing the hours of stress applied to the umbrella mechanisms is protected by our Patent #5020557 and is proven with actual performance stress testing.
Weather Resistant: Depending on the conditions at your location, your commercial umbrellas could be exposed to many different types of weather, from long-term sun exposure to frost to downpours of rain. San Francisco, for example, has a Mediterranean climate with warm and dry summers and mild, but moist, winters. You need umbrellas with canopies that offer protection from mold and mildew with a thick UV-resistant fabric that will protect your guests from the potential hazards of sun exposure.
Top Quality Components: The beauty of American Holtzkraft umbrellas is immediately apparent, but other high-quality features make our umbrellas desirable. Stainless steel hardware prevents corrosion in marine applications. Aluminum flush pole guards protect poles and minimize swelling in the stand. Solid brass fabric-connecting brackets are sealed with clear lacquer. Solid brass grommets and screws attach the fabric. All screws are flush to protect the fabric when the umbrella is closed.
Fabrics Selection: American Holtzkraft provides an amazing range of fabrics to choose from in solids, stripes, and textures. Add valances, trims, or split panels to create themed pieces for your unique business. Have your logo screen printed directly onto your umbrellas to make your business widely recognizable.
Customization: Another significant distinction between American Holtzkraft and our competitors is that we welcome the challenge of custom designing whatever you need. From umbrellas to site furnishings, we can conceptualize and create special pieces for your outdoor space.
You will find American Holtzkraft commercial outdoor umbrellas in San Francisco and around the world. Whether you are interested in octagon, square, rectangle, or decagon shapes, get in touch with us at (570) 539-8945 to explore the many options we have to offer or to place an order.