Commercial Outdoor Umbrellas Tampa
High-end commercial outdoor umbrellas from American Holtzkraft are essential to Tampa's resorts, restaurants, hotels, country clubs, and other venues. The Sunshine State welcomes guests and locals, but the sun can be a bit much. Our unique site furnishings will provide these guests with protection and comfort while enjoying their experiences at your spaces.
Introducing American Holtzkraft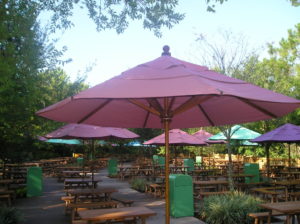 Based in Mount Pleasant Mills, PA, American Holtzkraft is a small business operating in the market umbrella industry. Since 1985, we have availed ourselves of the rich craftsmanship and natural resources of the local area. Our market umbrellas, cabanas, daybeds, accessories, and site furnishings enhance the high-end establishments we serve.
From outdoor seating at a restaurant to poolside, beachside, or even temporary kiosks in the area, market umbrellas draw the eye to your establishment. The aesthetic will also make a difference in the impression formed about your business. We offer high-end, customized products that will be eye-catching and easy for you to keep clean.
Guests will immediately judge the quality of an attraction by its appearance, and the canopy of your market umbrellas will draw the eye and absolutely must make a positive impression.
American Holtzkraft market umbrellas are made to resist fading and mildew growth. We also provide maintenance services, and our Florida clients can schedule a SAMs visit where our team will come out to evaluate and remediate the Safety, Aesthetic, and Maintenance of your outdoor site furnishings.
The team here specializes in providing your venue with the perfect customized product. Whether you'd like a standard design or want a fully customized creation, we stand behind all of our work and strive for customer satisfaction.
The choice of American Holtzkraft is an easy one. Each piece that goes into the construction of our market umbrellas is of the highest quality. Stainless steel and aluminum components prevent corrosion and warping, and the solid brass brackets and grommets are sealed for protection.
The high quality of American Holtzkraft products relies on diligent handmade construction. We hold several patents on design elements that make our umbrellas unique in the industry. The rotating canopy and dual venting permit the umbrella to stand tall against windy conditions; an ability proved in wind tunnel test conditions.
Since the canopy of your market umbrella will be the part that grabs the attention of passersby and guests, we offer a wide range of customization choices. Hundreds of different fabric options are available. The bespoke canopy can be any color, design, or texture you can imagine with a plethora of pleating, stitching, and other options. Your brand logo can even be directly applied to your market umbrellas.
We make market umbrellas that will last season after season, and our customers can choose between the warmth and strength of Northern Ash or aluminum for the pole that supports the canopy.
Our clients rely on us to customize the products they order. When you require a uniquely designed piece, reach out, and we'll be happy to collaborate with you to design and manufacture what you need.
Tampa businesses that require commercial outdoor umbrellas should turn to American Holtzkraft for products and services that surpass expectations. Come to us with requests, questions, and orders by calling (570) 539-8945.