Commercial Outdoor Umbrellas Texas
The commercial outdoor umbrellas you use in your Texas business should come from American Holtzkraft. Well-made market umbrellas, cabanas, daybeds, and bespoke site furnishings are as close as a phone call.
We're American Holtzkraft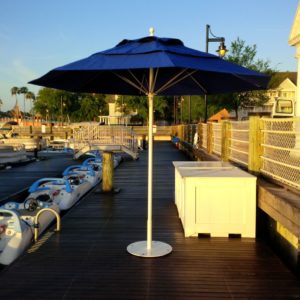 American Holtzkraft has been a reliable and high-end producer of market umbrellas and other site furnishings since 1985. We leverage the bounty of local Northern Ash hardwoods and the artistry of the Pennsylvania Dutch population to integrate our designs into products that last and perform. Female-owned and committed to customer satisfaction, American Holtzkraft market umbrellas are smart investments for businesses with outdoor spaces.
Unify an Outdoor Space with Market Umbrellas
Businesses use market umbrellas to shade and shield their customers from sun and rain, but they also draw the eye and call-in customers to enjoy their services. American Holtzkraft market umbrellas withstand environmental exposure and the passing of time with durable, easily cleaned, and maintained components.
We pride ourselves on making craftsmanship and customization go together.
The market umbrellas we produce work well and fit within any style niche. Call us at American Holtzkraft to create the perfect market umbrellas to reflect your brand identity and function well for your business's purpose.
The market umbrella poles can be composed of either wood or aluminum. For permanent positioning, the Northern Ash hardwoods we use are kiln-dried and sealed with the shade of marine-grade stain you choose:
Teak
Natural
Mahogany
Stonehenge Gray
Whitewash
Black Enamel
White Enamel
Emphasize your company's brand with your market umbrella. Whether you enhance the tone of elegance, casual cool, or technical excellence, the design of the umbrella can do so. You can also choose the brand's colors and integrate the logo for a more explicit branding opportunity.
American Holtzkraft market umbrellas remain in superior condition for years and are easily cleaned and repaired, even in the field. The range of products we produce is wide and varied. We can just as easily create top-of-the-line, strong umbrellas for beachside resorts as we can ones that are easily maneuvered for pop-up use.
Our purpose has always been the same since we began in 1985, and that is to produce secure, durable, and appealing commercial umbrellas for all environments. We make our market umbrellas and site furnishings in the US, meeting all expectations, or we'll make it right.
All components of market umbrellas are made to maximize functionality, appearance, and safety – from the canopy to the pole and all connectors or fasteners.
Buyers of our market umbrellas can personalize them in all sorts of directions, but the canopy material will always resist fading and protect from UV rays as a standard we hold for our materials.
The genius of the American Holtzkraft market umbrella is its wind resilience. Wind tunnel testing has demonstrated how well our umbrellas stand up to winds as high as 74.5 mph. We offer installation systems to address all situations you might face when outfitting a space with market umbrellas.
For assistance as you plan the ideal market umbrella design and number, reach out to our team.
If you're in the market for commercial outdoor umbrellas in Texas, call American Holtzkraft at (570) 539-8945. Our site furnishings, repair and refurbishment services, and custom orders appeal to all businesses, as you'll see with a quick perusal of our online catalog.