Commercial Outdoor Umbrellas Washington
Hospitality venues in Washington should have the best commercial outdoor umbrellas, and American Holtzkraft can personally meet all needs for custom site furnishings. As your single source for umbrellas, daybeds, cabanas, and more, we strive to meet all exterior design demands of the industry.
Advantages to Choosing Commercial Umbrellas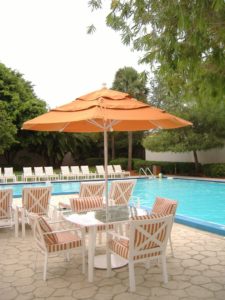 American Holtzkraft includes a plethora of market umbrella options for all commercial demands. We offer a myriad of shape and size options and stabilization systems to suit any environment. Functionally, market umbrellas protect patrons from sun exposure, UV rays, and precipitation and aesthetically elevate the design.
By adding commercial umbrellas to exterior spaces, venues maximize their usable space to welcome customers, particularly where Covid concerns dominate our activities.
The construction of market umbrellas involves employing the best quality materials and rigorous standards to provide durability even with high traffic use. Safety is the priority here at American Holtzkraft, so our clients rely on their purchases to last for many years without diminishing quality or functionality. We make them easy to repair in the field as well.
The types of commercial umbrellas available are surprisingly varied. Market umbrellas belong in a range of settings, both temporary and fixed. Restaurants, hotels, resorts, country clubs, theme parks, and many other hospitality venues use market umbrellas to make the best use of their exterior spaces and provide protection for their guests.
Our umbrellas have an upright center pole with a canopy extending from the base. We offer these umbrellas in various shapes, including decagon, octagon (round), square, and rectangle, and sizes up to 15'.
American Holtzkraft market umbrellas can be customized to a significant extent. We offer the choice of wooden or aluminum poles and a selection of finishes to individualize the pole. The canopy can also be customized in color, design, pleating, stitching, and logo placement.
When you order your market umbrellas from American Holtzkraft, the results will align with your specifications and work well functionally and aesthetically for your business.
Being headquartered in Mount Pleasant Mills, PA, American Holtzkraft leverages the world-renowned craftsmanship of the Pennsylvania Dutch community and the Northern Ash hardwoods that grow in the region.
The best materials and innovations have secured us six patented designs. We produce market umbrellas, cabanas, daybeds, and other site furnishings that are unrivaled in terms of safety, quality, and durability. Easy care and many years of use come from our umbrellas as well.
As you shop around for the best provider of site furnishings, please browse our online catalog and project gallery. You can quickly identify the quality of our efforts and the customizations available.
If your Washington business has outdoor space, make good use of it with commercial umbrellas from American Holtzkraft. Call (570) 539-8945 for guidance in your choice of shape, size, branding efforts, and more.