Commercial Outdoor Umbrellas
At American Holtzkraft, we have combined imagination and high-quality materials with well-known Pennsylvania Dutch craftsmanship to produce the finest quality commercial outdoor umbrellas in the industry.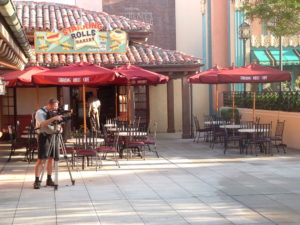 American Holtzkraft, headquartered in Mount Pleasant Mills, PA, is a small female-owned business founded in 1985 to capitalize on the abundance of high-quality hardwood in Pennsylvania and the region's renowned Pennsylvania Dutch craftsmanship to produce the finest market umbrellas in the industry.
We provide American-made, safety-valued solutions for major theme parks, resorts, and restaurants with custom-made umbrellas, cabanas, daybeds, site furnishings, and accessories that exceed their expectations.
Constructed with Northern Ash, the hardest wood grown in the United States, American Holtzkraft umbrellas are built to last. These umbrellas exude high-quality with canopies of attractive, durable fabrics, multi-laminated hubs and finials, and solid brass hardware.
You can also have the warm good looks of a wooden market umbrella with the durability of aluminum. Our most durable aluminum model, the 202P, with 8′ rotating canopy and pultrusion ribs, is available with a powder-coated finish.
Features of the World's Finest Outdoor Umbrellas
Distinctive hardwood grains are preserved by slow kiln drying, sealing, and slow drying of multiple finishes.
A full-length solid ash pole is laminated for strength and protection against warping.
The aluminum flush pole guard protects the pole and minimizes swelling in the stand.
A horizontal multi-laminated hub is reinforced by a band of 12-ply Baltic Birch plywood. The hub design accents strength, keeping the wood girth constant in all weather.
Multi-laminated finial provides further protection against excessive exposure to weather.
Flexible, durable, high-gloss finish for outdoor use.
Solid brass fabric-connecting brackets are sealed with clear lacquer. Solid brass grommets and screws attach the fabric. All screws are flush to protect the fabric when the umbrella is closed.
Heavy, solid brass eye-screw and chain connect the positioning pin.
How to Choose the Right Sized Umbrella
When you choose the right commercial outdoor umbrellas, you can expand the space available to your guests, enabling them to relax or dine comfortably both day and evening while offering protection from bright sunlight and inclement weather.
From restaurants and cafes to resorts, theme parks, and cruise ships, umbrellas are essential for all sorts of weather conditions. To make your umbrellas both functional and stylish, however, they need to be the right size.
The size of your outdoor umbrella will be determined by its width, not by its height. All American Holtzkraft umbrellas are measured from tip to tip on the ribs.
A good guideline for determining the canopy diameter is to measure the area, tables, or seating groups you want to shade, adding a 2-feet shade buffer around the table for optimal comfort. The extra shade will give your guests a fuller glare-free experience depending on where the sun is in the sky.
Examples:
6 to 6.5 ft. – These umbrellas are recommended for tables up to 30 inches wide, such as small bistro tables.
5 to 8 ft. – These umbrellas are recommended for tables up to 48 inches wide, such as 4-person dining tables, or to shade a single chaise lounge around the pool.
9 ft. – These umbrellas are recommended for tables up to 54 inches wide, such as 4 to 6-person dining tables.
10 ft. – These umbrellas are recommended for tables up to 62 inches wide, such as 6-person dining tables or a pair of chaise lounges.
11 ft. – These umbrellas are recommended for tables up to 84 inches wide, such as 8 to 14-person dining tables
12 ft. and Larger – These umbrellas are recommended for large outdoor seating areas and for pool umbrellas.
American Holtzkraft has carved out an excellent reputation for itself, and you can find our commercial outdoor umbrellas all over the world. Visit our website to learn more or get in touch with us at (570) 539-8945 to place an order.