Commercial Patio Umbrellas for Restaurants
If you're searching for the premier commercial patio umbrellas for restaurants, look no further than American Holtzkraft. Personalization and diversity are key features of our product catalog, and we serve a broad range of hospitality businesses. We can help you welcome patrons with a comfortable and appealing outdoor dining setting.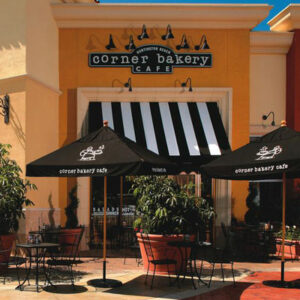 When American Holtzkraft builds market umbrellas, we combine the elements of innovation, quality, and skill to create the best furnishings in the business:
We hold six unique patents on the construction of our market umbrellas.
We sustainably use the Northern Ash hardwood timber available within the local area around our headquarters in Mount Pleasant Mills, PA, as well as other high-quality, durable materials.
We use the area's Pennsylvania Dutch population's expert hand-crafted abilities.
The Awards for Design Excellence (ADEX) are the leading awards provider for design, and we at American Holtzkraft are proud to have received them numerous times over the years. Our patented designs include a thatch umbrella model, a fan umbrella model, a misting umbrella model, a two-piece self-locking pole stand, a rotating canopy umbrella model, and an automatic opening umbrella model.
Further a Branding Campaign with American Holtzkraft Furnishings
When you choose American Holtzkraft to supply the market umbrellas, cabanas, daybeds, and other site furnishings you need for exterior spaces, the result meets the needs of welcoming guests appropriately while implementing strategic design for branding purposes.
Our design staff can help you design a theme particular for your company, and you can even request that we offer this design exclusively for your company's use.
Market umbrellas made by American Holtzkraft are especially helpful and durable, the ideal site furnishing investment. Picture the canopies of the umbrellas in the outdoor spaces of your restaurant. From color to trim, valances, panels, pleating, pattern, and logo design and placement, you can fully personalize the canopy of your market umbrella to fit within your company's visual image.
The umbrellas that you choose may have an aluminum or wooden pole. We also provide many base systems to accommodate our umbrella models and environments.
A Particular Space for a Particular Purpose
When planning an order with American Holtzkraft, the right size and shape are particularly important. The exterior dining space around your eatery is finite and of particular dimensions that are fairly defined and unchangeable. Your design needs to work with these parameters. Reach out to our team to help you set up the space in the most effective way possible. We have a great deal of experience and offer umbrellas in all sizes and four different shapes – square, rectangular, decagon, and octagon (round) shaped canopies.
Greater Wind-Resilience with American Holtzkraft Umbrellas
The market umbrellas we produce for improved wind resilience feature double venting and a fully rotating canopy. The wind that would otherwise stress the umbrella and cause damage flows through the umbrella. Reduced stress allows this model to withstand higher winds. During wind tunnel testing, it is shown to remain undamaged in winds up to 74 ½ mph.
Click here if you'd like to check out our project gallery. American Holtzkraft offers commercial patio umbrellas for restaurants, hotels, and other hospitality endeavors. The contact number is (570) 539-8945, or you may choose to email [email protected] to place an order or pose queries.