Commercial Patio Umbrellas Near Me
American Holtzkraft is a global leader in manufacturing commercial patio umbrellas and the answer to all "near me" searches. We also produce and distribute cabanas, daybeds, and other custom site furnishings.
The wooden and aluminum patio umbrellas we produce come in various sizes and shapes to provide comfort for your patrons and long-term functionality for your budget.
Who We Are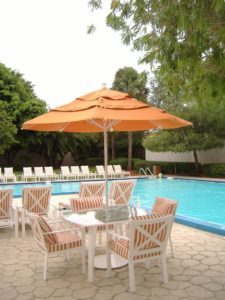 American Holtzkraft began the production of market umbrellas in 1985. We operate out of Mount Pleasant Mills, PA, capitalizing on the wealth of Northern Ash hardwoods and the skilled craftsmanship of the region's Pennsylvania Dutch population.
As specialists in the site furnishing niche, we offer safety, functionality, and design customization. We produce all of our market umbrellas, cabanas, daybeds, and other site furnishings in the USA for hospitality businesses worldwide. Safety, quality, and customization are our hallmarks.
Promote Your Brand through Market Umbrella Design and Placement
As an essential element of welcoming patrons to outdoor spaces, market umbrellas provide a unique way to promote branding while fulfilling a critical need of the business. The customizations that we make enable brand promotion in several areas.
The ideal model of market umbrella will complement the design of your space and the purpose of your venue. Our team will be happy to discuss these aspects and make suggestions that we identify as the best purchase for you.
The canvas of your market umbrella provides a great "canvas" for you to cement branding through color, design, and even logo placement. We offer your choice of fabric color and pattern, provide bespoke pleating and stitching, and incorporate branding via logo placement in a discreet but effective manner.
The size of the market umbrella is key to a successful market umbrella purchase. Different sized tables will accommodate different people and require different sized market umbrellas to pair with them. The umbrella should provide a two-foot easement on each side of the table to accommodate the movement of the shade as the sun progresses throughout the day. Again, the team at American Holtzkraft is available to help with these decisions and table placement for optimal use of your space.
Choose Quality That Honors Your Brand
The quality that American Holtzkraft brings to the table will appropriately honor your brand. High-quality market umbrellas will reflect that same level of quality to your products or service. From the components of the umbrella to our customer service, we demand safety and quality throughout.
In addition to producing quality site furnishings, we offer refurbishment and repair for market umbrellas and metalwork to outfit your commercial outdoor spaces beautifully.
Attention Florida Clients
American Holtzkraft offers a SAMs service visit for clients within the bounds of Florida. During this visit, we will evaluate the safety, aesthetics, and maintenance of your outdoor furnishings and design and provide remediation for any deficiencies we find. We welcome you to call for further discussion if interested.
Your search for "commercial patio umbrellas near me" should always result in a turn toward American Holtzkraft. We offer a range of sizes and designs without sacrificing an iota of quality. Reach out to (570) 539-8945 via phone or online to learn more about our catalog of products or place an order.