Commercial Pool Deck Umbrellas
High-end hotels and resorts looking for the best commercial pool deck umbrellas need to look no further than American Holtzkraft. The umbrellas, daybeds, cabanas, and other custom site furnishings that you need are available from our catalog and will make your poolside spaces a place of comfort and luxury that is easily maintained.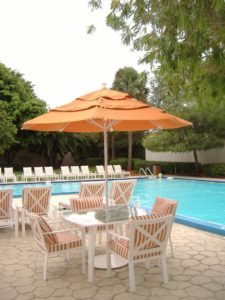 Market umbrellas offer cover for patrons as they lounge poolside, enjoying a nice lemonade or rosé. This protection will keep the glare from preventing eye contact and overexposure to the sun's rays.
The design of these market umbrellas also contributes a fashionable aesthetic to the area, with an appearance that will direct the flow of movement, a style that will unify the outdoor aesthetic, and customization that will cement the company's branding.
The Ultimate Choice of American Holtzkraft
American Holtzkraft serves as the standard of market umbrella producers. Since our founding in 1985, we have operated based on innovation, quality, and customer satisfaction.
Using local resources and innovative ideas, American Holtzkraft can provide superior custom commercial umbrellas. Our products are of such high quality that we have developed a footprint all over the globe.
The American Holtzkraft catalog provides a plethora of choices. While we specialize in commercial wooden and aluminum market umbrellas, we also offer high-end cabanas, daybeds, and custom site furnishings for businesses throughout the hospitality sector.
Customers will also discover ways to save by giving older outdoor furnishings a second and third life. American Holtzkraft has a dedicated refurbishment center where we inspect, repair, refinish, and re-canopy our products and those of our competitors.
In addition, we offer Florida clients SAM services, where we measure the Safety, Aesthetic, and Maintenance demands of the site furnishings and layout.
Personalized Commercial Umbrellas
Almost every aspect of your market umbrella can be personalized, from canopy size to shape, color, texture, pattern, stitching, and pleating. If you need guidance or would like a design exclusive to your brand, our team will be able to help make decisions regarding design and even logo creation.
The American Holtzkraft market umbrella is one site furnishing that will be easily cleaned, resistant to wear, and resilient to wind damage. In wind-tunnel testing, our market umbrellas have been proven to stand up against 74.5 mph winds before suffering any damage. We apply dual-vented and fully rotating canopies to accomplish this wind resistance.
American Holtzkraft market umbrella poles may be either wooden or aluminum, depending on the use and environment. These factors will also determine the stabilizing systems you should choose for your market umbrellas.
The wooden poles are primarily made of Northern Ash, but we offer other wood options, including Plantation-Grown Teak and Western Cedar. Slow-dried via kiln and sealed with multiple layers of sealant, choose the marine-grade finish in the shade of your choice.
Another key feature of our market umbrellas is the ability to service on-site. We recognize that the day goes on, and workers must spend time serving guests rather than servicing site furnishings. Therefore, we make our products durable and easy to use.
Customer service is never a question with American Holtzkraft. Of course, issues may arise, but we do whatever is necessary to be sure that all our customers always experience a satisfying experience. Outfit the deck beside the commercial pool of your venue with umbrellas from American Holtzkraft. Discover more about our products and services by perusing our online catalog or calling (570) 539-8945.