Commercial Umbrella Manufacturers & Suppliers in the USA
American Holtzkraft is the foremost among the USA's commercial umbrella manufacturers & suppliers. We produce a wide range of market umbrellas, cabanas, daybeds, and other custom site furnishings to complete any hospitality venue.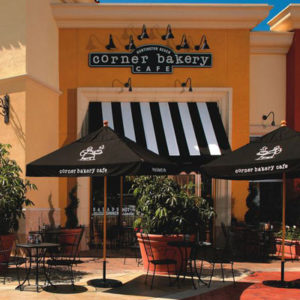 In Mount Pleasant Mills, PA, American Holtzkraft operates as a female-owned small business, as we have since 1985. Our footprint extends throughout the globe, and we produce high-quality custom site furnishings by combining the best materials, expert craftsmanship, and ingenious innovation. 
American Holtzkraft has designed and produced strong and stylish custom umbrellas for almost four decades. Traditional wooden and aluminum umbrellas with many choices of canopy fabric and umbrella bases allow us to meet your needs fully. Designate your preferences from the base to the finial, and we'll make them to order.
Expectations for Market Umbrellas
American Holtzkraft market umbrellas are available with wooden or aluminum poles in octagon "round," square, rectangle, and decagon shapes and a wide range of sizes. We suggest you pair the shape to elements in the area's space and base your size around the area that requires shade with an additional 2′ buffer space on all sides.
We primarily use Northern Ash hardwoods if you choose the wooden umbrella option. It's the hardest of the hardwoods that grow in North America, and baseball bats are made of that type of wood. We do offer other wood options like Western Cedar and Plantation-Grown Teak.
The hardwoods are slow-dried via kiln and then sealed with several layers of finish. Choose the finish shade you prefer – Teak, Natural, Stonehenge Gray, Black Enamel, White Enamel, Mahogany, or White Wash. In addition to being well sealed, the pole is protected by an aluminum flush pole guard to minimize any wood swelling.
The hub is made of multi-laminated Northern Ash and reinforced with stainless steel hardware. Its design promotes a strong and stable form regardless of the environment.
At the top of the market umbrella, the finial is multi-laminated for durability in all weather conditions. We combine your market umbrella with solid brass fabric-connecting brackets, grommets, screws, and a solid brass eye screw and chain.
American Holtzkraft market umbrellas – models 701, 702, 703.5, 707, 709, and 710 – offer automatic opening and closing, a feature made possible by Patent number 4928718.
Another of our patents, Patent #5020557, allows the canopy to rotate fully around the pole, reducing stress in windy conditions. Combined with dual venting of the canopy, it creates the most wind-resilient market umbrella sold.
Other patents include Patent #6802325 for our Thatch umbrella, Patent # 6691721 for a Fan umbrella, Patent #6682000 for a Misting umbrella, and Patent # 5337989 for a Two-piece self-locking pole stand.
American Holtzkraft also provides refurbishment services and SAM services, for our Florida clients. The SAM visits we offer to Florida clients involve checking out the SAFETY, AESTHETIC, and MAINTENANCE demands of their hospitality spaces. We'll inspect, repair, and refinish our own pieces and those created by others in the market.
American Holtzkraft, of all the USA commercial umbrella manufacturers & suppliers, offers top-tier site furnishings for hospitality venues and event spaces. Check out what we have to offer by viewing the American Holtzkraft online catalog. When you're ready to order, place a call to (570) 539-8945 or email our team at [email protected].