Commercial Umbrella Manufacturers
Send the perfect message to incoming patrons and potential clients at your venue and on your website by choosing to purchase your commercial umbrella stock from the best among available manufacturers, American Holtzkraft.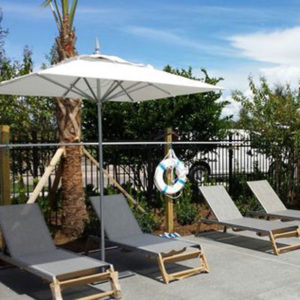 American Holtzkraft market umbrellas last, project the right aesthetic, and function perfectly with personalization that ticks off all appropriate boxes. Our products will help provide comfort for guests, pull together your outdoor design, and provide cost-effective, long-term solutions.
Functions of Market Umbrellas
When venues purchase market umbrellas, they intend to meet numerous functions. They draw the eye to the location and provide significant enhancement to the venue's design while shading and protecting your customers from sun exposure, heat, and glare.
American Holtzkraft creates personalized canopies that you can use to advertise and expand your branding identity. Our team will be happy to help design your umbrella as much or as little as you like. From the color to the pattern, pleating, stitching, and logo placement, your canopy can be focused on your brand and the company's desired tone.
About American Holtzkraft
A small, female-owned business, American Holtzkraft was founded in 1985 with an ingenious notion of market umbrella design and a wealth of regional resources. We produce commercial umbrellas, daybeds, cabanas, accessories, and site furnishings that we build to spec.
The products that we design, build, and deliver will elevate all of your venue's outdoor spaces. The investment is well worth it when you consider the durability and impact of the products versus their price.
Choosing the Perfect Model of Umbrella for Your Business
Our broad catalog of products offers clients a wide-open choice of market umbrella. Whether your specific business space needs a square, rectangle, octagon, or decagon canopy with an aluminum or wooden pole, we are the manufacturer to choose. The components on your umbrella will be made from the highest quality materials, including stainless steel, aluminum, and sealed brass.
If you're looking to make a first-time purchase or create a new outdoor theme for your business, the design team will be happy to assist with your plans and purchase.
Maximize the use of your canopy! Incorporate branding, draw attention, and complement the design of the surrounding buildings and features.
We Put Functionality and Aesthetics First
American Holtzkraft puts forth market umbrellas that impress our clients' patrons with high-end quality and appearance. This impression is imperative to preserving your venue's reputation and customer base.
As you order your market umbrellas, make sure to consider functional needs and aesthetic ones.
Umbrella size should include an additional two feet of coverage on each side beyond the physical space that requires shade. You should also consider the square footage available, the walkway within the area, and the plan for furniture placement to meet the demands of use.
Market umbrellas from American Holtzkraft withstand use and weather exposure. In addition, the canopies resist fading, molding, and staining, so you won't have to delegate extra worker time for maintenance.
In Florida, customers can also schedule a SAMs visit from American Holtzkraft. Our team will arrive and evaluate your venue's safety, aesthetic, and maintenance aspects and offer remediation as needed.
American Holtzkraft is the most innovative, high-end, and customer-responsive of commercial umbrella manufacturers. Reach out to browse our catalog, pose questions, place an order online, or call (570) 539-8945 to speak with our team.