Commercial Umbrellas for Water Parks
American Holtzkraft commercial umbrellas are ideal for many hospitality venues – including water parks, hotels, resorts, and more. We're a worthy source for cabanas, daybeds, market umbrellas, and other custom site furnishings for your business. We provide incredible quality, functionality, aesthetic appeal, 100% customer service, durability, and excellent prices.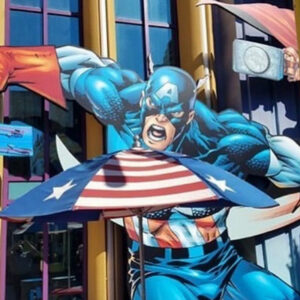 American Holtzkraft is a female-owned small business with a global footprint. The quality of our products has allowed us to grow from a single great idea in 1985 to the provider of site furnishings for some of the most famous venues in the world.
The priority here at American Holtzkraft is to provide 100% customer satisfaction for every client. The ideal set of site furnishings differs from client to client, so our work begins with a conversation. We need to verify that your choices coincide well with your needs. In addition to made-to-spec pieces, we also offer repair and refurbishment for used pieces and SAM (Safety, Aesthetic, and Maintenance) evaluations for clients in Florida.
Proven Characteristics of American Holtzkraft Umbrellas
One of the key features of American Holtzkraft commercial umbrellas is their strength and durability. We accomplish this attribute through our design, materials, and craftsmanship choices.
The umbrellas that we create feature either aluminum or wooden poles. The tempered aluminum can come with a brushed or powdered finish, and the wooden poles are generally made with either Northern Ash, Plantation-Grown Teak, or Western Cedar, slow-dried via kiln, and then stained with multiple layers of marine-grade sealant and finish. Finish shade options include Teak, Natural, Mahogany, Stonehenge Gray, White Wash, Black Enamel, and White Enamel.
The canopies, finial, hub, and ribs are made of equally strong material and put together with measures designed for resilience regardless of weather conditions. Stainless steel and solid brass hardware, along with an aluminum flush guard, complement the strength of the other materials for a result that is incredibly durable and built to last.
We offer the most wind-resilient model of umbrella on the market. When strong winds hit the water park, this model can stand up to 74.5 mph winds before damage occurs, a fact proven during wind tunnel testing. This feat comes through a rotating canopy and a dual-vented canopy.
American Holtzkraft market umbrellas suit the outdoors, where they're designed to live. Pool chemicals, water, wind, precipitation, salt, humidity, and use will all affect the life of your commercial umbrella. Still, we use canopy fabrics and composition techniques designed to extend the life of each piece. The canopy fabric resists mold/mildew development, stains, fading, and even UV penetration.
Creating the perfect canopy for your venue is easy with American Holtzkraft. Define your preferred:
Color
Pattern
Panels
Trims
Pleating
Logos
Stitching.
When you create a design for your site furnishings, ask us about exclusive use rights for your company. Your American Holtzkraft market umbrellas, daybeds, cabanas, and other site furnishings can become vital to your marketing campaign.
Commercial umbrellas for water parks made by American Holtzkraft meet all the venue's needs. Allow us to help you get the order just right by calling (570) 539-8945 or emailing [email protected]. You can find inspiration or reassurance through our online catalog or project gallery.