Commercial Umbrellas for Windy Areas
If you're looking for commercial umbrellas best suited for windy areas, American Holtzkraft produces the best. We'll provide the ideal umbrellas for any venture within the hospitality arena.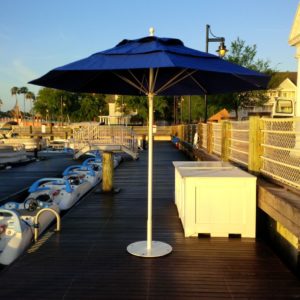 American Holtzkraft calls Mount Pleasant Mills, PA, home. Since 1985, we've maximized the safety, quality, and customization of market umbrellas, daybeds, cabanas, and other site furnishings. The setting in Pennsylvania provides us with the perfect Northern Ash hardwoods for needed components and the perfect craftsmanship in the skillfulness of the Pennsylvania Dutch population.
We're able to provide a straightforward market umbrella solution for all of your outdoor spaces. We know the questions to ask to guide your customization plan, provide you with a quality umbrella, and even inspect and repair as needed.
The Difference Made by American Holtzkraft
Crafted in the US – The attention to detail, quality components, and customized features pay homage to the benefits of choosing American-made products. The patents we hold make sure that our umbrellas are strong and long-lasting.
The Long-Life and the Second Life of Market Umbrellas – American Holtzkraft market umbrellas are made with the hardest hardwood, Northern Ash. They're made to sustain the tests of time and weather. In windy conditions, the umbrella rotates around the axis of the pole, and the wind flows right through the dually vented canopy. These patented features and the strong base result in a market umbrella that stands strong against 74.5 mph winds during wind tunnel testing.
As market umbrellas age, we're there to refurbish, refinish, and repair. We'll rescue the aged umbrellas and return them to a state worthy of use in your hospitality venue. Save money, limit waste, and minimize rubbish sent to landfills.
The Resistance of Market Umbrellas to Weather – Umbrellas are generally made vulnerable to all sorts of weather conditions. We use fabric that resists mold/mildew, UV rays, fading, and scrub-resistant grime. From sun to heat, wind, and rain, nothing will beat the beauty of our market umbrellas. We do all that we can to make maintenance easy.
The Best Materials for Your Market Umbrellas – American Holtzkraft market umbrellas are made from the highest quality materials. Stainless steel hardware, aluminum flush pole guards, lacquer-sealed solid brass brackets, grommets, and screws work together to create a lasting, safe, and beautiful result.
The poles available are either aluminum or wood. Ash poles are kiln-dried, sealed, and protected with multiple layers of finish. The finish can be in the shade of your choice; options include Teak, Natural, Black Enamel, White Enamel, Gray Stonehenge, Mahogany, and White Wash.
Textile Options and Sewing Choices – American Holtzkraft provides an impressive range of fabrics to design custom canopies. The materials may be a range of designs from stripes to graphics, solids, and more. We'll even screen print your logo onto the canopy. When sewn, we can add embellishments like trim, valances, etc., to complement the venue's aesthetic.
Custom Designs – Cookie cutter market umbrellas are not what we do at American Holtzkraft. We can custom design the market umbrella to perfectly suit your needs. In addition to market umbrellas, we offer daybeds, cabanas, site furnishings, and accessories.
For windy areas, commercial umbrellas from American Holtzkraft are the most appropriate option. Discover the various customizations we can offer by reaching out online or calling (570) 539-8945.