Commercial Use Wind Resistant Patio Umbrellas
When hospitality venues look for commercial-use wind-resistant patio umbrellas, they find them with American Holtzkraft. Our market umbrellas, cabanas, daybeds, and other site furnishings are made from the highest-quality materials, the finest workmanship, and the most ingenious innovation in the industry.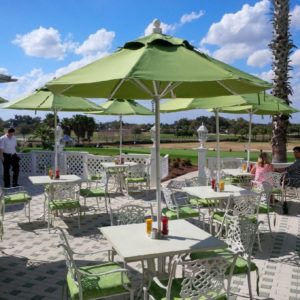 American Holtzkraft serves restaurants, hotels, water and theme parks, and a variety of other hospitality providers. Each piece we make improves these businesses' exterior spaces to benefit their patrons' experiences. 
Established in 1985, American Holtzkraft is a female-owned small business born from innovation. Every transaction is essential, and we make every effort to make our customers happy. This dedication has earned us a worldwide footprint and client relationships with some of the most notable venues.
Commercial Umbrellas for All Settings and Events
The environments that need commercial umbrellas welcome patrons, and they need to set an appropriate tone when they do. Whether your atmosphere needs to be low-key or grand, customize your site furnishings to suit your design while meeting functional needs.
Every American Holtzkraft piece is designed and built to withstand the tests of time and exposure. We commit to providing our customers with satisfaction. We build with high standards in mind, even providing refurbishment services for our products as well as those of our competition.
Reach out to our team to discuss your particular site furnishing needs; our team has the expertise needed to consider your goals and current situation while planning the specifications of your order. 
Wooden and aluminum poles are the two choices American Holtzkraft makes available. Options include Teak, Natural, Mahogany, Stonehenge Gray, White Wash, Black Enamel, and White Enamel. Northern Ash hardwoods, the hardest of the North American hardwoods, are the predominant wood we use, but we also offer Western Cedar and Plantation-Grown Teak. These woods are slow-dried via kiln, sealed with marine-grade applicant, and finished with your shade choice. Aluminum poles can be finished with aluminum-brushed or powder coat options.
Customizations possible when ordering from American Holtzkraft include shape, size, color, texture, logo placement, pleating, stitching style, and more. The textiles used for the canopies are resistant to UV ray penetration, mold and mildew growth, staining and fading, and wear damage. Once you have the perfect design, opt for exclusive rights for your company's use for a powerful branding element.
The wind resilience of our market umbrellas is the strongest on Earth. The wind-resilient model has two features that make it so: the ability to spin around the pole's axis fully and the dual venting of the canopy. These measures reduce the force working against the umbrella and have proven to allow the umbrella to stand firm against 74.5 mph winds during wind-tunnel testing.
The utmost priority of American Holtzkraft is always safety. We no longer produce cantilever umbrellas because of the risks they pose. The stabilization systems and bases we provide are ideal for the umbrella and environment model in question.
For commercial use of wind-resistant patio umbrellas and other site furnishings, contact American Holtzkraft. The personalization and innovation that we offer are second to none. Reach out today to place an order or learn more about our products. View our online catalog here, or call (570) 539-8945 or email [email protected] to speak with a team member.