Commercial Windproof Umbrellas
The highest quality commercial windproof umbrellas are available from American Holtzkraft for the world's finest resorts, hotels, country clubs, and other hospitality venues. We also provide daybeds, cabanas, and other site furnishings.
Why American Holtzkraft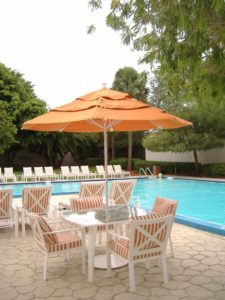 Headquartered in Mount Pleasant Mills, PA, American Holtzkraft is a female-owned small business that leads the way in the market umbrella arena. We make cabanas, daybeds, market umbrellas, accessories, and custom site furnishings and provide refurbishment and repair services.
When founding the company in 1985, we determined to use a patented, innovative approach to market umbrella creation, and we also used the Pennsylvania Northern Ash hardwoods and elite workmanship of the Pennsylvania Dutch population.
Hospitality venues use market umbrellas to welcome patrons to eating areas, pools, seating areas, and other gathering spots. Market umbrellas pull these areas together in a unified fashion. Our high-quality personalized site furnishings offer focal features and accents while providing functionality and easy maintenance.
Make sure your brand is associated with quality. When patrons come to your establishment, they will immediately evaluate the quality of your market umbrellas. You want the market umbrella to bring in traffic, but you don't want that traffic to be disappointed in the quality or cleanliness of the umbrella.
All of our umbrellas resist fading, mold/mildew growth, and staining; they're easy to clean and highly durable. You'll be proud of the impression they make, and maintenance won't require much overhead or time.
For Florida clients, we offer a SAM service, where we will evaluate the Safety, Aesthetic, and Maintenance of the exterior areas and resolve any problems.
The staff at American Holtzkraft has expertise in customizing, designing, and producing the ideal site furnishings. Our catalog is full of outstanding products, and we provide customizations. Our work stands for itself, and we provide all the necessary customer service to ensure 100% customer satisfaction.
Choosing American Holtzkraft should be a clear decision. Every component of the market umbrellas that we make is the best available. Solid brass brackets and grommets, stainless steel, and aluminum protect the functionality and life of the market umbrella.
In addition to fine materials, we require artisans to make our products by hand. Our innovative, patented designs include the rotating canopy paired with dual venting to create the most wind-resilient market umbrella available. In wind-tunnel testing, our umbrellas stand up against 74.5 mph winds before suffering damage. No other market umbrella offers this level of strength.
Market umbrella canopies draw the eye, center the space, and develop branding. Canopies can be customized with different options depending on color, design, texture, pleating, stitching, and logo placement.
Thanks to the fine materials, quality craftsmanship, and innovative designs, the market umbrella that you purchase from us will last year upon year.
The warm Northern Ash or strong aluminum pole will support the canopy, and the stabilization system will keep the umbrella in place.
The customers who come to American Holtzkraft create the products they choose. We will be happy to custom design the pieces that you need to outfit your exterior commercial spaces.
Across the world, businesses that face wind and weather need commercial windproof umbrellas, and American Holtzkraft provides the best. Reach out today with orders or questions online or via phone:(570) 539-8945.