Custom Commercial Umbrellas
Custom commercial umbrellas from American Holtzkraft will project the right look, provide the best protection, and withstand extremes of weather and circumstance for the entities in the hospitality industry. When hotels, resorts, restaurants, coffee shops, and theme parks need site furnishings, they call on us.
Introducing American Holtzkraft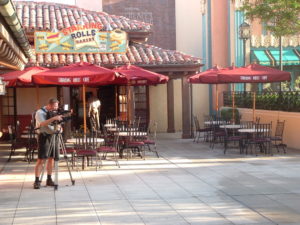 Female-owned and headquartered in Mount Pleasant Mills, PA, American Holtzkraft offers 3+ decades of experience. By leveraging the expert craftsmanship of the local Pennsylvania Dutch community and the Northern Ash hardwoods that surround us, we produce some of the best commercial umbrellas, daybeds, cabanas, and site furnishings in the world.
Elevate the Commercial Patio Design of Your Business
The placement of your furnishings has a substantial impact on the functional and aesthetic aspects of your business's patio space. If customers feel they have to walk too closely around other patrons outside of their party, they may feel unwelcome, uncomfortable, and unlikely to return.
By incorporating walkways and design accessories into the patio to direct the flow of traffic and ensure appropriate distancing, you'll increase the comfort of patrons. While you may be able to seat fewer tables, you'll have fewer empty tables and more repeat customers.
Elevate the outdoor spaces of your restaurant or resort even further by creating a lounge and entertainment venue at one end of your outdoor space. Modern site furnishings for these spaces, along with fire and water features, can bring elegance, diversion, and leisure to the area.
Doesn't a lounge and an entertainment platform beg for a bar addition?
In addition to the seating at the bar, you can incorporate small cluster seating nearby. Sectioning a few tables together and separating them with carefully placed large-sized accessories will help your patrons feel cozy and welcome.
American Holtzkraft market umbrellas, cabanas, and other site furnishings should play a role in this elevated design.
Choose from among our diverse catalog of high-quality market umbrellas to pull the pieces together and provide protection from the sun and rain.
The quality of American Holtzkraft market umbrellas is second-to-none. Our furnishings are American-made by experienced craftsmen according to our patented and proven designs. Our market umbrella technology has garnered us several awards over the years, particularly the ADEX.
The American Holtzkraft Difference
Customization Possibilities
American Holtzkraft market umbrellas come in a variety of shapes and sizes. Additionally, you can choose a metal or wooden pole and even customize the finish on the pole, the color of the canopy fabric, the stitching pattern, and even pleating embellishments. Your brand logo can be applied directly to the market umbrellas we produce.
The canopy itself on our market umbrella is incredibly durable and easily maintained. Each is resistant to fading, staining, and weathering even while customized to your specifications.
From the solid brass fabric-connecting brackets, grommets, and screws to the stainless steel hardware, each component on our market umbrellas is chosen to last and installed in such a way to promote durability with frequent use and in extreme conditions.
The patented design of American Holtzkraft umbrellas promotes wind resistance up to 74.5 mph. This strength has been demonstrated in wind tunnel testing.
When you trust American Holtzkraft umbrellas for your commercial space, they must stay in place. Putting your patrons in danger would be a significant mistake, but our umbrellas are proven to be the safest in the field.
American Holtzkraft custom commercial umbrellas are the premier option for all players in the hospitality industry. Explore all the options by calling us today at (570) 539-8945.