Custom Hotel Umbrellas
An elite hotel will need multiple types of custom umbrellas, and American Holtzkraft can provide them all. From furnishing elegant outdoor events to the hotel pool and tiki bar or hotel restaurant, outdoor seating will need to be paired with appropriate market umbrellas. The hospitality industry as a whole finds the umbrellas and other site furnishings required with us.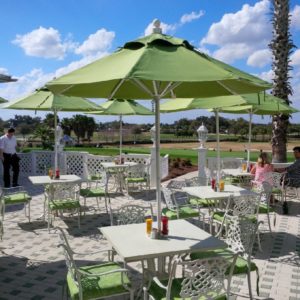 A side-by-side comparison between our umbrellas and the most well-known competing brands' umbrellas provides a clear answer to any buyer wondering which is the best. We're ready and able to provide any bespoke site furnishing need you might have.
Accommodating Guests with Appropriate Protection
Hotels with event spaces, lounging areas by the pool, and outdoor eating at the in-house restaurant need the right umbrellas for all sizes of groups and table configurations. These umbrellas should include an additional two feet on all sides to create the necessary shade as the sun moves throughout the day. Hotel guests will not appreciate the inconvenience of a shady and not-shady side of the table.
Go Easy on Hospitality Staff
The day of hospitality professionals is long and busy. Their to-do lists are long and continually building, so choices that limit this expansion are clearly preferable. The maintenance requirements for market umbrellas purchased from American Holtzkraft are straightforward and simple. The umbrellas also resist the damage commonly caused by the sun, wind, rain, and use.
Avoid the Lure of a Bargain
Affordable doesn't have to mean low quality, but you must beware of prices that are, in actuality, too good to be true. By paying for quality in the beginning, you'll save money in the long run.
American Holtzkraft stands behind our products, making mistakes right when they occur, each and every time.
American Holtzkraft has made our mark on the market umbrella industry by perfecting the combination of quality materials, ingenious design, and precise workmanship.
The Magic of American Holtzkraft
Founded in 1985, American Holtzkraft is an American-made company that makes the best commercial umbrellas on the market. We make good use of the quality local human and natural resources in the area by choosing Northern Ash hardwood for our wooden poles and the craftsmanship of the Pennsylvania Dutch for construction.
We provide bespoke, hand-crafted market umbrellas and site furnishings for commercial purposes the world over. The materials and designs used to produce our products are second to none. Not only do we have six patents on design features of our products, but we also have established wind resistance up to 74.5 mph during wind-tunnel testing, quite a feat for commercial umbrellas.
The Keys of Canopies
For commercial umbrellas to pull their weight, the canopies need to be made of strong and lasting fabric. Weather, wear, and time shouldn't affect the appearance or functionality of the umbrella. With all of these qualities plus easy cleaning and resistance to mold and mildew, our canopies stand out and last for years, as demonstrated by the loyalty of our long-standing customers.
Choice is key to American Holtzkraft market umbrella canopies.
Texture
Design
Color
Pleating
Stitching
Shape
The custom umbrellas that American Holtzkraft produces for hotels, restaurants, and other hospitality businesses surpass all expectations. We invite you to peruse our online catalog, and you can always order online or by calling (570) 539-8945.