Custom Large Umbrellas
Does your venue require large custom umbrellas for hosting events? American Holtzkraft produces a wide range of market umbrellas to meet every potential need with quality site furnishings and comprehensive customer service. 
Outdoor umbrellas offer guests a shield against the UV and glare of the sun and light rain, but they also unify exterior design and create branding through the color and branding of the canopy.
Designed and Crafted by American Holtzkraft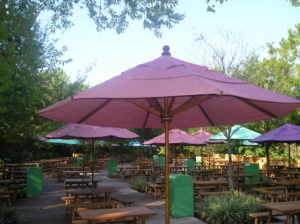 American Holtzkraft has been a leader in exterior site furnishings since 1985. We're headquartered in Mount Pleasant Mills, PA. The area features a plentiful array of Northern Ash hardwoods and an incredibly skilled population of Pennsylvania Dutch craftsmen. By combining these two resources and our remarkable innovations, we produce strong and dynamic site furnishings that have earned us a global footprint. 
Our online catalog outlines the various models and features available in our market umbrellas, but we also produce many other site furnishings, including cabanas, daybeds, and pieces built to specifications.
Other services include complete replacement and repair for American Holtzkraft products and our competition's products. 
Florida clients can request a SAM visit, wherein we will check over the Safety, Aesthetic, and Maintenance demands of your facility's exterior and make suggestions to rectify defects. 
Commercial Umbrella Customizations
American Holtzkraft market umbrellas can be customized according to the following:
Size

Style

Shape

Color

Design

Valances

Trim

Stitching

Pleating

Pole Type

Base and Stand

Much more
For the ideal design, reach out to our team for help planning your purchase.
All the fabrics and other materials we use result in site furnishings that are easily cleaned; resistant to wear, fading, and staining; and withstand damage even in high wind conditions.
Throughout the design, from finial to base, every piece is of the highest quality, chosen to withstand the pressures of exposure. Solid brass hardware, multi-laminated hubs and finials, and remarkable stands and bases produce excellent results, and we'll win against any comparison of our umbrellas against the competition. 
In high wind conditions, commercial umbrellas from American Holtzkraft are strong and durable. Through wind tunnel testing, we've demonstrated that our wind-resistant market umbrellas suffer no damage up to 74.5 mph winds.
The poles chosen for your commercial umbrellas will be aluminum or hardwood. We usually use Northern Ash hardwoods for wooden poles, the hardest of all the North American hardwoods, but we also offer Western Cedar and Plantation-Grown Teak. The woods are slow-dried with a kiln and then laminated with multiple layers for ultimate durability. The sealant used can be in the shade of your choice:
Teak

Natural

Mahogany

Stonehenge Gray

White Wash

Black Enamel

White Enamel
The lasting nature of American Holtzkraft market umbrellas continues with the aluminum pole option. One of our many models allows for repair while in the field in just a few moments, keeping the day going without taking multiple workers or man hours.
Comprehensive customer support is a pledge that we make at American Holtzkraft. When mishaps happen, we don't brush them aside. We correct them. We also offer companies the chance to design their own exclusively used site furnishings.
A custom-designed set of large umbrellas is as close as a call or email to American Holtzkraft at (570) 539-8945 or [email protected], respectively. We welcome questions and custom orders.