Custom Logo Market Umbrellas
American Holtzkraft manufactures market umbrellas designed the way you prefer – with or without your custom logo. Branding your company's umbrella design is a great way to build a unique identity and loyal customer base while meeting the demands of your outdoor seating and lounging areas.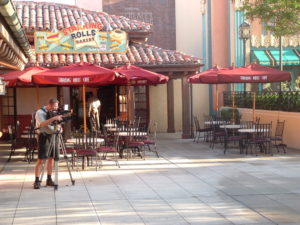 The market umbrellas we manufacture for clients are meant to improve the functionality and aesthetics of the exterior spaces for all sorts of hospitality businesses. Our clients include theme parks, restaurants, hotels, resorts, country clubs, and other hospitality venues. American Holtzkraft market umbrellas, cabanas, daybeds, and other site furnishings are well-known for custom-built and top-of-the-line quality.
In business for over three decades, American Holtzkraft has the experience, innovation, and dedication to meeting customer needs as required to produce the best market umbrellas in the world.
The brand recognition you can gain from placing your custom logo onto your market umbrellas is significant. Companies should not pass up any opportunity for branding exposure.
Branded commercial umbrellas offer a tool to meet several needs with one purchase. Marketing, design, and fulfillment of customer needs are all possible with the right market umbrella.
The Purpose and Unexpected Benefits of Market Umbrellas
Market umbrellas grace the outdoor spaces of restaurants, bars, and other venues. Large, well-supported market umbrellas come in the precise shape and size that best suits the seating area in question. The longevity and durability of market umbrellas far exceed standard umbrellas, providing long-term protection from sun exposure and rain.
In addition to shading the intended area, market umbrellas draw the eye and invite in guests. We create stabilization systems for all environments with a setup that will leave customers comfortable and unbothered by the wind throughout the day.
Personalizing the market umbrellas at your establishments presents a unique aesthetic for your company. We will be happy to help perfect the logo on your market umbrellas, and we offer customizations regarding the finish, color, texture, design, pleating, stitching, and more.
Protect your patrons from heat and UV rays with well-placed market umbrellas. During heat and rain, guests will radiate to these areas for comfort, be exposed to the brand, and become motivated to shop.
Permanent or Mobile Designs
Some market umbrellas are meant to be moved daily, while others are fixed permanently in position. We regularly service the needs of all types of clients, whether you have a kiosk for a few days or standing seating space in a theme park.
From outdoor street fairs to farmer's markets and other festivals, quality market umbrellas speak to the quality of the services or products you have for sale. Market your brand and seat your customers comfortably with American Holtzkraft market umbrellas.
In addition to market umbrellas, we also produce daybeds, cabanas, and other site furnishings in a custom built-to-order fashion. Furthermore, we offer repair and refurbishment services.
Creating custom market umbrellas through American Holtzkraft with your logo is the best way to integrate branding, functionality, and design success. Discover all we have to offer by browsing our online catalog or reaching out online or via phone at (570) 539-8945.