Custom Logo Patio Umbrellas
Embellish each of your venue's patio umbrellas with your custom logo by calling on American Holtzkraft. We offer the highest quality pieces ranging from market umbrellas to daybeds, cabanas, and all sorts of custom site furnishings.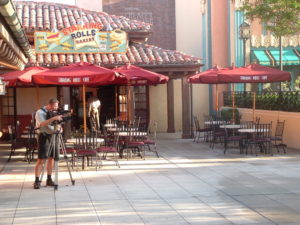 American Holtzkraft's specialty in custom site furnishings extends across the hospitality industry. A market umbrella provides the perfect "canvas" for promoting your brand through your choice of color, design, pleating, stitching, and logo placement. We'll be happy to help you design market umbrellas that provide functionality, marketing, and aesthetics in keeping with your establishment's style and service level.
American Holtzkraft holds six different patents as testaments to our innovation. Safety is the priority for our designs, leading to our decision to forego cantilever umbrellas. They can be dangerous and harmful. We offer wind-resistant umbrellas with a patented rotating canopy and dual vented design. Wind tunnel testing has shown our umbrellas to withstand 74.5 mph winds before experiencing any damage.
Leaders of the Market Umbrella Industry
The field of market umbrellas is full of options, and finding the best quality and value might seem difficult. Consider American Holtzkraft. We offer plenty of experience, innovation, and commitment.
Our reputation for excellence is hard-earned, and we commit ourselves to earn it every day. Every client can rely on our team to do whatever it takes to provide satisfactory products and services.
Quality is a given when you order from American Holtzkraft. The investment is well worth years of functionality and aesthetic quality. We take extraordinary measures to ensure that our market umbrellas resist weathering, staining, and fading.
In addition to the Northern Ash hardwood we use for our wooden poles or the alternative aluminum poles, we also implement stainless steel hardware, solid brass brackets, grommets and screws, and aluminum flush pole guards.
The textiles used in our site furnishings are incredibly durable as well. We employ stain and UV-resistant fabrics that are easily maintained and cleaned to prevent mold or mildew build-up.
A basic umbrella is a pole with a canopy for shade or cover. The same concept applies to market umbrellas – only amplified. We offer only center-post market umbrella designs to avoid the risk of injury that cantilever umbrellas create.
Market umbrellas are made to work in commercial settings, from the amplified size to the elevated quality of materials. We offer stabilization systems to pair with our umbrellas for practically all environments and provide designs that result in convenient repair in the field.
Our catalog is filled with many market umbrellas, cabanas, and daybeds, but we also create custom site furnishings according to your specifications. Our service center welcomes aging market umbrellas in need of refurbishment and repair, helping companies protect their bottom lines.
The patio umbrellas you require for your hospitality ventures can be put to good use with the addition of a custom logo. American Holtzkraft offers a single source for all of your site furnishing needs. We welcome you to browse our catalog online or reach us by phone at (570) 539-8945.