Custom Logo Restaurant Umbrellas
Operating a restaurant with outdoor dining spaces requires acquiring the ideal custom logo umbrellas for these areas, and American Holtzkraft is the premier supplier. We offer worthy site furnishing solutions for all hospitality venues, including sidewalk cafes, beachside fine-dining establishments, and more.
Design and Production Excellence with American Holtzkraft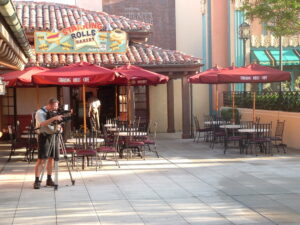 Market umbrellas are an essential design element when hospitality venues welcome guests to outdoor spaces. Restaurants, in particular, need to protect diners from the glare, heat, and UV rays of the sun and light precipitation. Beyond the practical benefits of market umbrellas, they also provide a branding opportunity. We offer the best of every element here at American Holtzkraft.
Since 1985, American Holtzkraft has pursued top-tier quality and customer satisfaction. We produce the best commercial umbrellas, cabanas, daybeds, and other uniquely made site furnishings on the market. For nearly forty years, we have dedicated ourselves to meeting all customer needs with quality designs, materials, and artistry.
American Holtzkraft's team of professionals awaits the opportunity to design and implement the ideal site furnishings for your needs. Our creations are crafted with quality, according to your custom choices. We have stringent standards and provide repair and refurbishment services as well. Customer service is standard, and we take all steps to make all transactions surpass expectations.
Strong Market Umbrellas from American Holtzkraft
The strength of American Holtzkraft market umbrellas begins with the finial. It extends down to the base used for stabilizing the installation appropriately for the environment in question. Wooden umbrella features are usually made of Northern Ash hardwoods, the strongest hardwood grown in North America, and the wood used to construct baseball bats.
Aluminum market umbrellas feature strong aluminum features, and both have strong stainless steel and solid brass hardware for connections that withstand the tests of time and exposure.
Our designs are strong, and we provide the hospitality world with the most wind-resistant market umbrella produced. With a dually vented canopy that can rotate a full 360°, this model can withstand high winds up to 74 ½ mph before experiencing damage.
American Holtzkraft chooses to produce all our furnishings within the United States, employing the hand-crafted expertise of the area's skilled Pennsylvania Dutch population.
Exposure to the elements is part of the deal with site furnishings. We produce pieces that are thoroughly protected from weather conditions. Saltwater, chemical-filled pool water, sun-fading, regular use, and other challenges do not affect our products like other brands.
The textiles used to create market umbrellas differ widely in color and pattern, but the quality of the fabrics remains high. We can add your choice of custom logo, even help with design, and add the panels, trims, valances, and stitching that meet the aesthetic expectations of your brand.
Your personalization options don't end there. You can select a wooden or aluminum pole, and we'll provide the most appropriate base system to secure your market umbrellas as safely as possible in any given environment.
The custom logo restaurant umbrellas that we offer here at American Holtzkraft will suit the needs of your eatery well. Call us at (570) 539-8945 or email [email protected] if you have questions, want to schedule design, refurbishment, or repair services, or wish to order a product.