Custom Patio Umbrella with Logo
American Holtzkraft provides customers with an incredible opportunity for branding by personalizing the venue's custom patio umbrella with a logo.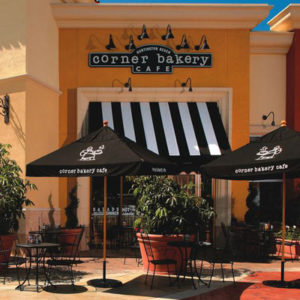 We're the best when it comes to designing, crafting, and producing market umbrellas, cabanas, daybeds, and other site furnishings. For years to come, your market umbrella will function as it should without extensive aesthetic damage. On the off chance that our customers are dissatisfied, we make the situation right always.
Hospitality venues like theme parks, hotels, restaurants, resorts, and country clubs need market umbrellas and other site furnishings to welcome their patrons. Our team will be happy to assist as you work out the design for your bespoke site furnishings.
Another area where we can assist is by helping with the layout of your site furnishings to discover how many umbrellas will be needed. Beginning with the square footage of the area, you can then determine the size, shape, and number of guest spaces and then choose the ideal umbrellas for your needs.
As you choose umbrellas to create shade and protection, make sure to account for the sun as it moves from the east to the west. The shade should extend two feet beyond the space that you'd like shaded to accomplish all-day shade.
Small and large commercial umbrellas are available from American Holtzkraft in various sizes, shapes, colors, and designs. You can custom design the market umbrellas to complement the brand and tone of the business.
Outside of customization opportunities, American Holtzkraft market umbrellas have an incredibly innovative design that makes them durable, functional, and easily repaired onsite.
Market Umbrellas That Rise Above the Rest
Founded in 1985, American Holtzkraft had a goal of creating the highest quality, most durable market umbrellas. We operate out of Mount Pleasant Mills, PA, and are a family-owned business. The natural resources, including the Northern Ash hardwoods in the region and the excellent workmanship of the Pennsylvania Dutch population, provide us with an incredible head start. Along with our innovative design, we make the ultimate market umbrellas you'll find anywhere.
Key Attributes of American Holtzkraft Wooden Umbrellas
We offer both wooden and aluminum market umbrellas from the finest of materials, and we offer a diverse range of shapes:
Rectangle
Decagon
Octagon (round)
Square
The wood itself is Northern Ash hardwood. We use a kiln to slow dry the wood and then seal it with a customized finish. You can choose the color from the following options:
Teak
Natural
Mahogany
Stonehenge gray
Whitewash
Black enamel
White enamel
These multiple layers of finish allow our market umbrellas to stand tall and strong for longer than the competition.
In wind-tunnel testing, American Holtzkraft market umbrellas prove themselves to be able to withstand winds up to 74.5 mph without suffering damage. By including a dual venting system and a fully rotating canopy, these umbrellas are remarkable and the best on the market for wind resilience.
Add your company's logo to the custom patio umbrella order you place with American Holtzkraft, and with it will come protection for your patrons and constant branding development. Explore more inventive ways to use the finest market umbrellas and other site furnishings by reaching out to (570) 539-8945.