Custom Patio Umbrellas With Logo
Maximize the branding potential of your venue's patio umbrellas with a custom logo and design developed and implemented by American Holtzkraft. We also offer daybeds, cabanas, and custom designed site furnishings for every hospitality-style entity, from hotels to restaurants, cruise ships, and more.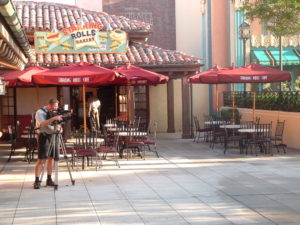 Market umbrellas help cement a comprehensive branding campaign when custom-made with your logo and exclusive design. American Holtzkraft offers broad personalization opportunities along with standard safety and quality.
Stacked against any of our competitors, American Holtzkraft's quality is superior.
Aesthetically, a market umbrella should draw in visitors visually and anchor the overall design of the space. Seating areas, small and large, will require shading outdoors, and our various sizes and shapes can accomplish this protection. We suggest you add two feet of clearance to accommodate the shade's movement as the sun changes positions during the day.
Our creations last despite the tests of time and exposure, as they're built to do. The longevity of American Holtzkraft market umbrellas comes through their materials and craftsmanship. Instead of buying new market umbrellas year after year, invest in ones that will provide a long life. The bones of our products are such that you'll be able to use them for many years to come.
We also provide refurbishment and repair services for all brands of market umbrellas, allowing companies to stretch their budgets as far as possible.
Easy Care and Cleaning for Site Furnishings
Market umbrellas from American Holtzkraft are made well from materials designed to promote convenient care and cleaning. The fabrics we utilize for American Holtzkraft market umbrellas resist staining, wear, fading, tearing, and even falling and causing injury. These fabrics are attached to the hubs and finial with quality hardware that resists corrosion and degradation.
American Holtzkraft – The Right Choice
American Holtzkraft is a female-owned and operated small business headquartered in Mount Pleasant Mills, PA. We've provided innovative and long-lasting market umbrellas and other site furnishings worldwide since 1985. Northern Ash hardwoods, expert craftsmanship, and smart designs come together to produce safe, appropriate, and appealing results.
Custom, handcrafted American Holtzkraft market umbrellas provide a long life of functionality and incredible branding opportunities. American Holtzkraft holds six patents, resulting in the best products on the market. The ADEX, or Awards for Design Excellence, we've repeatedly received through the years are evidence of our innovative vision.
Custom Logo and Design
When you're ready to order market umbrellas for your water park, hotel, restaurant, or other hospitality space, call American Holtzkraft. Our team will be happy to help design your logo and your umbrellas to be in line with your company's brand identity and setting's atmosphere. Every detail can be tailored to your needs, from custom color to pleating, valances, shape, size, and logo placement. You can also choose the type of pole and stand that supports your market umbrella canopy. American Holtzkraft even offers exclusivity options for clients who want to design their unique market umbrellas.
To create your custom patio umbrellas complete with logo, call American Holtzkraft at (570) 539-8945 or email us at [email protected]. We also provide access to an online catalog providing a glimpse into the possibilities that we offer for clients around the globe.