Custom Printed Commercial Umbrellas
Custom printed commercial umbrellas are vital to the branding efforts of hospitality businesses nationwide. American Holtzkraft produces the best quality aluminum and wooden market umbrellas, and we perform all our operations here in the United States. Durable, cost-effective, and made-to-order, all our site furnishings are worthwhile investments.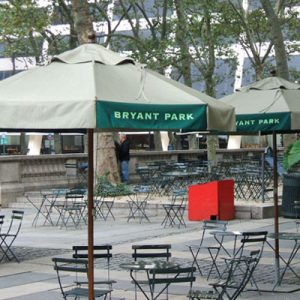 A female-owned small business, American Holtzkraft operates out of Mount Pleasant Mills, PA. This area offers a wealth of resources, natural and human. In addition, the area's bounty of Northern Ash hardwoods provides the strength needed for durable pieces. The Northern Ash is the hardest of the hardwoods and is used for baseball bat production. 
The area's Pennsylvania Dutch population incorporates a level of hand-crafted workmanship of the highest quality. The materials, craft, and innovation combine to produce the absolute best umbrellas, cabanas, daybeds, and other available site furnishings. 
The market umbrellas produced by American Holtzkraft offer customizations unavailable with other producers. They also last longer and require less cumbersome maintenance demands. Our pieces are made to suit all hospitality businesses, including:
Theme parks

Resorts

Restaurants

Hotels

Water parks

Country clubs

Cruise lines

Event spaces

More
Create the Perfect Commercial Umbrella
Shade and protection for your patrons are the goals of commercial umbrellas, but they're not the only ones. A perfectly designed market umbrella offers the comfort and safety required and the atmosphere and branding the ideal aesthetic provides.
Our team has the expertise to help arrange the perfect commercial umbrella for your business. The dimensions and shape of the market umbrellas' canopies and the required number will be the first elements you'll need to address.
The size of the market umbrellas will need to cover the space in question, with two additional feet of easement on all sides, and the shape should parallel objects in the environment, including the tables and seating.
The team here at American Holtzkraft can also provide expertise in the design and application of your chosen logo. This feature is essential to new and established endeavors.
The individual design elements that you can order to spec include the following features:
Size

Shape

Color of canopy

Type of stitching and pleating

Embellishments on canopy

Logo placement on canopy

Wooden or aluminum pole

Finish for pole

The stand and stanchion to accommodate placement
American Holtzkraft holds six different patents regarding the design of our site furnishings. One design, in particular, is our wind-resilient market umbrella. This model has full-axis rotation paired with dual venting of the canopy and can handle 74.5 mph winds before any damage occurs. This strength has been proven during wind tunnel testing. 
American Holtzkraft Site Furnishing Services
At American Holtzkraft, you'll find refurbishment options for the site furnishings that we produce and those of our competitors. Our furniture quality is such that each piece can enjoy second and third iterations.
SAM visits, provided to our Florida clients only, offer in-person evaluations to find and fix any problems related to Safety, Aesthetics, or Maintenance (SAM) elements.
Commercial umbrellas from American Holtzkraft will meet the needs of your business in terms of size, shape, custom-printed logos, and more while also providing longevity and functionality. Explore the options by calling (570) 539-8945 or checking out our online catalog for inspiration.