Custom Restaurant Umbrellas
The custom restaurant umbrellas found in the swankiest spots in town are often made by American Holtzkraft. Our products elevate spaces with superior materials and engineering creating the best market umbrellas, daybeds, cabanas, and site furnishings available.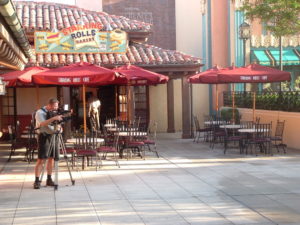 The team here at American Holtzkraft specializes in customizing market umbrellas and creating bespoke site furnishings of all kinds. The canvases of our market umbrellas are strong and can be emblazoned with your company's logo and colors. The umbrellas made for our restaurant clients are designed to suit the tone and design style of the eatery.
With your logo embellishing the house umbrellas, you can subtly reinforce a branding campaign in a way that customers connect with the experience of visiting your establishment. Our umbrellas are so well-made that they're used all over the world in all hospitality sectors.
The six different patents that we hold demonstrate the ingenuity of our umbrella design. We put safety first. In fact, we no longer suggest or sell cantilever umbrellas due to the danger and risk of liability involved with their use. Instead, we suggest our customers choose our umbrellas that have proven themselves to be the best at wind resistance during wind tunnel testing.
American Holtzkraft – The Clear Winner
If you're in the market for new commercial umbrellas to use in the outdoor eating section of your restaurant, you've probably come across a few candidates. Our reputation as being one of the best in the field is well-earned and based upon years and years of top-tier performance and follow-through. No client goes unsatisfied when American Holtzkraft is the umbrella and site furnishing supplier.
The aesthetic of the market umbrella is truly half the equation. A genuine, high-quality commercial umbrella performs impressively well, lasts for a surprising period of time, and withstands the tests of weather and wear.
We use stainless steel hardware, aluminum flush pole guards, solid brass brackets, solid brass grommets and screws, and aluminum or Northern Ash hardwood poles.
We proudly make all of our products here in the United States. Crafted with the skill and eye for detail of the Pennsylvania Dutch, our umbrellas are ingeniously designed. We have six separate patents that produce market umbrellas that perform better than any alternatives.
The durable fabrics we use for the canopies of our site furnishings come in a plethora of textures, colors, patterns, pleating, and stitching options for a bespoke design.
At its most basic, a market umbrella consists of a canopy with a pole for primary support. We use center-post designs because of the safety problems related to cantilever umbrellas. The canvas of the canopy covers the occupants from precipitation, UV, and sun exposure. Our market umbrellas are made with superior canvas fabric, aluminum or wooden poles, and other prime materials.
American Holtzkraft provides these market umbrellas as well as cabanas, daybeds, and other site furnishings, and we have a substantial service center where we refurbish, repair, and maintain site furnishings.
The Florida clientele of American Holtzkraft also enjoys the service of SAM consultations. We will visit your site and inspect the Safety, Aesthetics, and Maintenance features of your outdoor spaces.
Does your restaurant require custom umbrellas for its outdoor eating accommodations? American Holtzkraft is here to meet every need you have for site furnishings that meet your needs with one simple call to (570) 539-8945.