Double Vent Market Umbrellas
Hospitality venues worldwide find American Holtzkraft market umbrellas with the double vent feature to offer peak wind resilience. Our site furnishings enhance the atmosphere, offer functionality for patrons, and last season after season. The quality and personalization opportunities we offer are impressive.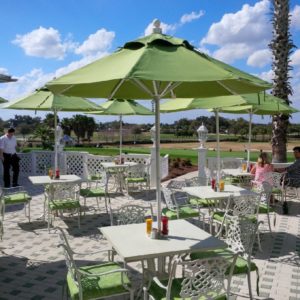 As a leader in the market umbrella industry, American Holtzkraft produces market umbrellas of the highest quality, and we have since 1985. We are female-owned and headquartered in Mount Pleasant Mills, Pennsylvania.
The local hardwoods and expert craftsmen in the area provide us with great advantages as we produce custom site furnishings, daybeds, cabanas, and accessories in addition to commercial umbrellas. In most cases, we can take your specifications and create your site furnishings accordingly.
Wind is the enemy of market umbrellas, but American Holtzkraft employs two patented features to maximize the resilience of our market umbrellas. These features include double venting and a rotating canopy; they allow the umbrella to withstand winds without damage. In wind tunnel testing, these features have allowed our umbrellas to suffer no damage up to 74.5 mph.
Your commercial venture needs market umbrellas, and we offer to personalize them and incorporate a high degree of quality. Reach out to our staff to discuss the available features, models, and customizations. We'll help you determine all of the features you need for the perfect set of market umbrellas.
Stand-Out Market Umbrellas from American Holtzkraft
Market umbrellas should be the level of quality that provides complete safety in all conditions. Otherwise, you could put your patrons in danger. We offer market umbrellas that will perform well without fail. If the umbrella has problems opening or closing, we offer easy to fix features while in the field.
All of these features make American Holtzkraft commercial umbrellas lead the market.
The American Holtzkraft market umbrellas provide our clients with longevity and smooth functioning. The canopies on our umbrellas protect from sun exposure, UV rays, heat, and precipitation. Furthermore, the fabric withstands exposure without fading, staining, or mildewing with easy maintenance steps required. These canopies can also be broadly customized.
Custom and quality are the key reasons to choose American Holtzkraft. Check out our online catalog for all of the models and features that will meet your company's precise needs. You can even include the logo of your company on the canopy of any shape or size market umbrella you'd like.
The stain used on the Northern Ash hardwood poles can be customized. The Northern Ash hardwood poles we use can be finished with Teak, Natural, Mahogany, Stonehenge Gray, White Wash, Black Enamel, or White Enamel.
American Holtzkraft has a separate center where we refurbish, maintain, and repair site furnishings like market umbrellas. Another service that we offer includes SAM visits for our Florida customers. A SAM visit checks the Safety, Aesthetics, and Maintenance of the area and provides suggestions and steps for improvements.
The double vent market umbrellas manufactured and distributed by American Holtzkraft are best positioned for wind resilience. Our designs meet the needs of your company, functionally and aesthetically. Reach out by dialing (570) 539-8945 to learn more about our products and take advantage of custom options.