Durable Outdoor Patio Umbrellas
Durable outdoor patio umbrellas are easy to custom order from American Holtzkraft. We cater to a wide range of hospitality endeavors, including high-end restaurants, hotels, beach resorts, water and theme parks, and many more. Our site furnishings allow venues to welcome guests to exterior spaces in a manner that surpasses all expectations.
Why Choose American Holtzkraft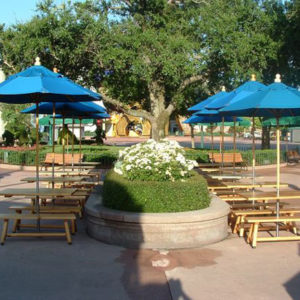 With headquarters in Mount Pleasant Mills, PA, American Holtzkraft offers small-town service with world-class quality. Founded in 1985, we operate with a threefold commitment – to innovation in design, quality of materials, and expertise in craftsmanship. With this commitment, we produce outstanding results and back up these products with comprehensive customer support. 
Market umbrellas should anchor the space visually and provide top-quality protection, whether permanently fixed on a poolside deck, restaurant patio, a temporary kiosk, or a daily beach lounge. Our products withstand the tests of time and exposure while offering the opportunity to custom design and brand outdoor pieces.
As guests enter the space, they'll immediately be impressed with the market umbrellas we supply and the ambiance they help create. 
The market umbrellas and other site furnishings we create resist fading, staining, and the growth of mold and mildew. We intentionally design products made to live outside and care for easily. 
Beyond promoting the long life of our products, we also have a space reserved for refurbishing and repairing our products and those of our competition.
The clients we serve in Florida enjoy access to SAM visits. During these inspections, we will evaluate and make suggestions regarding the Safety, Aesthetic, and Maintenance features of spaces to improve them as much as possible.
American Holtzkraft offers standard designs and custom opportunities for market umbrellas and other site furnishings. We can even provide access to an exclusive design for your company's products from American Holtzkraft. 
From the tip of the finial to the bottom of the base, an American Holtzkraft market umbrella is made with the highest quality materials. We utilize stainless steel and aluminum pieces alongside sealed solid brass components throughout the design's construction.
American Holtzkraft handcrafts site furnishings, relying on the skill of the Pennsylvania Dutch population in the area. We also use innovative designs, holding several patents that make our market umbrellas some of the best available. 
We produce the most wind-resilient market umbrella you'll find. The fully rotating canopy and dual venting allow this model to remain undamaged up to 74.5 mph winds during wind tunnel testing.
Customizing the canopy of American Holtzkraft market umbrellas allows companies to set their exterior apart from others and set the tone of the environment. From fabric color and design to pleating, trim, valances, stitching, and logo placement, your canopy can be all your own.
Long-lasting commercial umbrellas from American Holtzkraft are made with strong fabrics and aluminum or wooden poles for strong support. We make a range of finishing shades available for these poles. While Northern Ash is the primary timber used for wooden poles, additional wood options include Plantation-Grown Teak and Western Cedar.
American Holtzkraft produces durable outdoor patio umbrellas for all hospitality venues. To begin designing your company's site furnishings, reach out today by calling (570) 539-8945, emailing [email protected], or checking out our online catalog.