Extra Large Commercial Umbrellas
Do you need extra large commercial umbrellas to accommodate events with large parties of guests? American Holtkzkraft stands ready to meet your needs. Our site furnishings come with innovative designs, expert craftsmanship, and quality materials, benefiting all of our hospitality clients.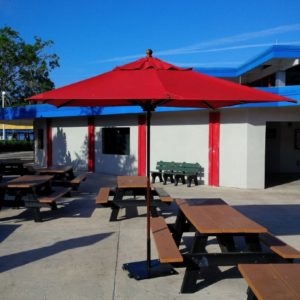 American Holtzkraft clients extend from restaurants to theme parks, country clubs, vendors, water parks, hotels, and other hospitality providers. All of these spaces are made better with site furnishings from our company.
We began our work in 1985 as a female-owned, small company, and we continue in this capacity today. Client satisfaction is critical to us, and we strive to ensure that, when things go awry, they are made right and that only quality goods bear the American Holtzkraft name.
How Market Umbrellas Influence Ambiance
Commercial umbrellas are essential to a venue's outdoor areas. As your patrons' lounge, eat, converse, or shop, make sure they do so under the comfort of a quality market umbrella. The custom options of an American Holtzkraft market umbrella allow for aesthetic impressiveness and brand security.
American Holtzkraft site furnishings offer incredible durability. The quality of our umbrellas extends to a second life when you send in your market umbrellas for refurbishment. We can refinish, repair, and re-canopy – replacing broken components to provide a like-new market umbrella.
American Holtzkraft works to perfection. We know the questions to ask. We regularly work with executives, managers, landscape planners, and other company reps to ensure the market umbrellas purchased are well-suited to their demands.
For the umbrella pole, consider Northern Ash hardwood or aluminum. The wooden umbrella poles are made of the hardest hardwood on the continent, and they're slow-dried, sealed, and layered with multiple layers of finish in the shade of your choice.
Investments in market umbrellas made by American Holtzkraft come with personalization opportunities that range from colors to texture, size, shape, design, logo placement, stitching, and canopy pleating.
High winds can be the death of patio umbrellas when you choose other companies. American Holtzkraft produces market umbrellas that include dual venting to decrease stress against the pressures of high winds and allow canopies to rotate around the axis freely.
Starting in 1985, American Holtzkraft has produced high-quality site furnishings for many hospitality companies. The priority of safety governs our work, followed closely by a dedication to customer satisfaction. Our umbrellas should stand reliably without tipping over, and we do not make products that will.
When you purchase an American Holtzkraft market umbrella, the result should be pieces that unify the outdoor aesthetic of your venue and fit within the setting well. We supply all UV-, mold-, mildew-, and fade-resistant materials.
The American Holtzkraft team stands ready to take your call and guide you through the process of choosing the best umbrellas to fit within your space and welcome guests with easy use and beautiful results.
For extra-large commercial umbrellas, look no further than American Holtzkraft. To explore our products, peruse our online catalog, and we welcome a call to (570)539-8945 or an email to [email protected] for more information to place an order.