Extra Large Patio Umbrella
An event venue that requires an extra-large patio umbrella is an event worthy of premiere service. Whether the occasion is a wedding, company excursion, or other celebration, ensure that you provide the best experience possible by securing your site furnishings from American Holtzkraft!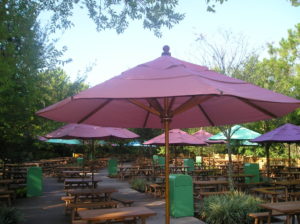 American Holtzkraft knows how to customize and manufacture durable site furnishings for all hospitality venues by honing our best practices over the last three decades. Market umbrellas, cabanas, daybeds, and more, when used appropriately, can enhance the look and use of your outdoor spaces.
Consider the strength of the pole materials we offer: North American Northern Ash hardwoods or aluminum. The craftsmanship and skill that make the market umbrella possible come from the population of Pennsylvania Dutch in the local area of Mount Pleasant Mills, PA. Finally, we, as a company, hold six different patents for the following types of umbrellas:
Thatch umbrella
Fan umbrella
Misting umbrella
Two-Piece Self-Locking Pole Stand
Rotating Canopy Umbrella
Automatic Opening Umbrella
Creating quality market umbrellas combines artistry and engineering. Our products are hand-crafted, personalized, and hardy with quality components and materials.
The ADEX (Award for Design Excellence) is given for innovation and excellence in design. American Holtzkraft is proud to have received several of these honors.
The Market Umbrella Setup
The market umbrella construction includes a pole, a canopy, and a stand.
The canopy of our umbrellas is strong and functional. We use fabrics that hold up against exposure without tearing, weathering, fading, staining, or permeating UV rays. The various designs and colors we offer allow our clients to custom design their umbrellas; we even provide your choice of logo placement, stitching, and pleating design.
The customization doesn't end there! Our umbrellas come in many sizes and shapes, including octagon (round), decagon, rectangle, and square. If your event requires coverage beyond the feasible dimensions of a market umbrella, consider our canopy options. Their elegance and stability will add another dimension to the outdoor design.
As you choose the shape and size of the commercial umbrellas for your space, remember to incorporate a couple of extra feet on each side to accommodate the movement of shade throughout the day. The customer support staff here at American Holtzkraft has the skill and commitment to satisfaction to help set up the layout and unique umbrella design.
Market umbrellas made by American Holtzkraft are high quality down to the components used. Our umbrellas' brackets, grommets, and screws are sealed with solid brass and stainless steel. Even the wooden poles are protected beyond the slow-drying process and multiple finishes with aluminum flush pole guards.
American Holtzkraft's commitment to safety is comprehensive. In addition to using only high-end materials, we also refrain from constructing cantilever systems since they've proven to be less than safe. Our stands and methods of installation are as secure as possible.
For wind-prone areas, we offer an incredibly wind-resilient market umbrella. It features dual venting and a rotating canopy and is proven to stand, without damage, in winds up to 74.5 mph in wind tunnel testing.
With an extra-large patio umbrella from American Holtzkraft, your venue will be able to accommodate elegant parties and large groups of patrons. Custom site furnishings of all sorts are available, and we welcome you to browse our online catalog and follow up with an email or call to outline specifics and place an order.