Free Standing Patio Umbrella
If your business's outdoor spaces require a collection of the best available free-standing patio umbrella, we suggest American Holtzkraft. The quality of our pieces comes from the blend of innovation, materials, and workmanship that goes into the site furnishings that we produce.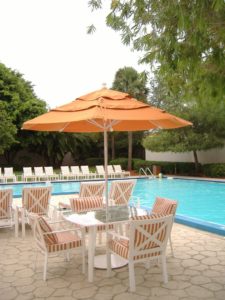 The genius of American Holtzkraft products comes from our design. We have six different patents for the creation of the following specialized market umbrellas:
Thatch Umbrella
Fan Umbrella
Misting Umbrella
Two-Piece Self-Locking Pole Stand
Rotating Canopy Umbrella
Automatic Opening Umbrella
American Holtzkraft produces many umbrella styles, daybeds, cabanas, and other custom site furnishings. We aim to go well beyond our customers' expectations with every transaction. Our long-term clients and hard-earned reputation speak to these efforts.
Founded in 1985, American Holtzkraft is a female-owned small business born from the realization that market umbrellas could be better, and we strive to provide the best.
Creating the Ideal Market Umbrellas
Customizing the ideal market umbrella begins with a call to our team. Our specialists can guide you through the decisions to be made in a way that maximizes the effectiveness of the market umbrellas' ability to function and add to the venues' aesthetic.
Refuse to settle for generic market umbrellas. American Holtzkraft will help you personalize your purchase to perfectly suit the needs of your venue in terms of square footage, appearance, and activities.
After collaboration with the team here, you'll know the size and shape needed for your space, and we will also help you choose customizations.
Keep in mind that, above all,  we prioritize safety and quality. American Holtzkraft market umbrellas are built to last in workmanship and materials. As time goes by, the pieces we produce are exposed to sun, precipitation, wind, etc.
The canopy material is durable and ideal for standing up against the wind, rain, and sun exposure without tearing, fading, staining, or mildewing. It also resists penetration from UV rays for the protection of your guests.
The other major component of a market umbrella is the pole. We offer either aluminum or Northern Ash hardwoods as composition materials for the umbrella pole, which are hardy and resistant to wear.
The commercial market umbrella that you choose should suit the venue's setting and function. With the custom options that we offer, you can also take the opportunity to cement your branding endeavors with corresponding colors, pleating designs, and well-placed logos.
The mantra of safety first governs the work of American Holtzkraft. The systems we use to stabilize the commercial umbrellas are safe and secure. For total stability, consider choosing the market umbrella we offer for wind resilience. It has dual venting and a rotating canopy for maximum safety and durability.
The commitment that we make to our customers is non-negotiable. American Holtzkraft provides sustained custom service for all clients, including refurbishing and repair as required.
Florida venues may take advantage of SAMs visits by American Holtzkraft. These evaluations check for Safety, Aesthetics, and Maintenance issues on your property.
Are you looking for a safe and high-quality free-standing patio umbrella? Choose American Holtzkraft! Begin by perusing this online catalog and then shoot us an email or call to place an order!