Heavy Duty Commercial Patio Umbrellas
Hotels, restaurants, country clubs, and resorts need the heavy-duty commercial umbrellas that American Holtzkraft makes to grace their patios. The aesthetic and functionality of the market umbrellas we provide draw in guests and provide incredible quality, durability, and personalization to our clients.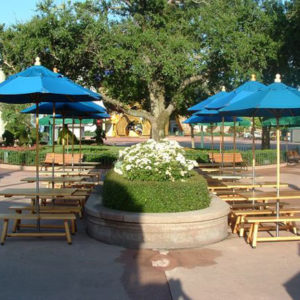 Market umbrellas meet multiple needs of venues. They serve as a focal feature, center the space, and draw in visitors. The design of the market umbrellas amplifies the overall aesthetic, offers shade and comfort for patrons, and facilitates a branding opportunity. Our umbrellas are incredibly durable, and we provide refurbishment services to make used ones look new.
The custom umbrellas you buy from us promote branding, aesthetics, and functionality. Masterfully created umbrellas with logos and color combinations that enhance the brand can cement your business's image in your customers' minds. Keep the essential elements of the market umbrella in mind as you design your market umbrellas and other site furnishings. Our team will also be happy to assist you with the design process.
Buy from American Holtzkraft
In 1985, American Holtzkraft was established as a family-owned small business that produces the foremost market umbrellas available. The finest materials, innovative designs, and handmade craftsmanship create quite a statement in the exterior design of our customers.
Whether you need market umbrellas, cabanas, daybeds, accessories, or other site furnishings, come to American Holtzkraft.
Choose the Ideal Model of Market Umbrellas for Your Purposes
American Holtzkraft market umbrellas are well-made and customizable. The plethora of models available in the American Holtzkraft catalog is impressive. From square to rectangle, octagon (round), and decagon, the choices abound, and we offer either wooden or aluminum pole models. The range of finishes are also impressive. One thing that's not optional is high-quality components including: stainless steel, sold brass brackets and grommets, and aluminum.
The American Holtzkraft team has expertise in identifying and designing market umbrellas to suit particular purposes and brands. Reach out for help when you want to amplify the effect of your design.
After choosing the best model of market umbrella for your hotel, restaurant, or other venues, amplify its effect with custom canvas designs. We can easily include the logo and brand colors on your canvas to bring together branding across your interior and exterior design.
The venues for whom we create market umbrellas need the best quality and appearance because market umbrellas have prime real estate at their venues. We meet that need.
The size of an American Holtzkraft market umbrella is a factor you can choose. We offer a plethora of sizes in our catalog. As you order, keep in mind that to maintain shade all day, you'll have to add two extra feet on all sides.
All American Holtzkraft market umbrellas are made with textiles that are resistant to fading, staining, and mold/mildew growth. We also provide refurbishment, maintenance, and repair services.
Florida clients, call us for SAM services. We will inspect the site for Safety, Aesthetic, and Maintenance issues during this visit.
Are you an executive, manager, designer, or another party in charge of supplying your business with heavy-duty commercial patio umbrellas? If so, call American Holtzkraft to get the very best products possible. Explore more by contacting us online or calling (570) 539-8945.