Heavy Duty Commercial Umbrellas
Heavy-duty commercial umbrellas from American Holtzkraft work well in a diverse number of hospitality settings. From theme park settings to outdoor restaurant seating, resorts, hotel pool patios, and beyond, our umbrellas provide impressive durability without sacrificing the ability to customize the design and placement.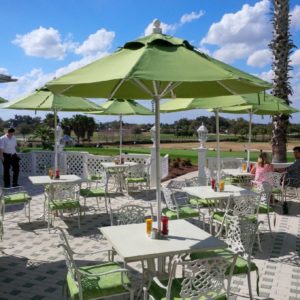 American Holtzkraft, founded in 1985, is female-owned and finds Mount Pleasant Mills, PA, the ideal place to construct world-class market umbrellas. We use the hardest of the hardwoods, Northern Ash, a tree that is easily accessible in this area. The local craftsmanship of the Pennsylvania Dutch population is yet another prime resource found in our vicinity. With superior materials, design, and artistry, we produce the absolute top-of-the-line commercial umbrella.
Clients of American Holtzkraft can choose between wooden pole umbrellas and aluminum umbrellas, depending on their needs. The stands that we apply are diverse enough to accommodate and safely install our umbrellas in various environments. Out of all of our designs, safety is always the driving force.
Custom and Standard Options of Wooden American Holtzkraft Umbrellas
The wooden pole style of market umbrellas can be customized to the shape, size, and design that suits your brand and purpose.
American Holtzkraft produces round (octagon), square, rectangle, and decagon-shaped commercial umbrellas for our customers. If you need some guidance regarding which will work best in your outdoor space, reach out to our knowledgeable team.
The wooden pole itself is remarkably durable. It's made from Northern Ash, the hardest of the hardwoods. Furthermore, it's slow-dried and sealed with your choice of finish. The pole is also protected by an aluminum flush guard that prevents swelling. If you're looking for a market umbrella with a pole that will not break or warp, look no further than American Holtzkraft.
The umbrella hub is reinforced with stainless steel hardware and protected by Northern Ash hardwood for all-weather strength and protection. Every detail and every component has been designed for maximum functionality, safety, and durability.
Our umbrellas are made with several patented designs that promote ease of use and weather resilience. The rotating canopy and dual vents allow the umbrella to withstand winds up to 74.5 mph. This resilience has been demonstrated in wind tunnel testing. Request the video footage to see this masterful construction for yourself.
Or Choose an Aluminum Pole Model
Our most durable aluminum design is the #202P with a solid aluminum hub. The design is such that repairs can be made in the field without heavy tools and hours of effort.
Customization Sets Us Apart
When ordering from American Holtzkraft, customization is always available. We provide theme designs, custom furnishing options, fabric and finishing choices, and even logo placement. In addition to market umbrellas, we manufacture cabanas, daybeds, and custom site furnishings. Allow us to meet your needs with well-built, high-quality solutions.
Designing the outdoor spaces of your hospitality business is as important as interior design. Choose heavy-duty commercial umbrellas from American Holtzkraft when you want your investment to last while providing the performance and appearance you're seeking. If you'd like to place an order, pose questions, or seek assistance with customizations, reach out online or by calling (570) 539-8945 at your earliest convenience.