Heavy-Duty Outdoor Commercial Umbrellas
Heavy-duty outdoor commercial umbrellas from American Holtzkraft work well for all types of hospitality venues. From restaurants to resorts, cruise ships, and hotels, mark the outdoor spaces of your venue with the best site furnishings available.
Furnish Outdoor Spaces with American Holtzkraft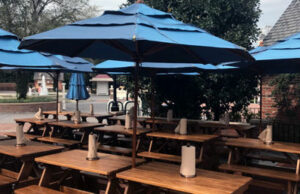 American Holtzkraft is a female-owned site furnishing company that began as a brilliant idea for a better-made market umbrella. Since first opening in 1985, we've grown to a company that serves the entire globe with American-made, high-quality umbrellas, daybeds, cabanas, and other custom site furnishings.
We have seven patents, and we rely on Northern Ash hardwoods and the Pennsylvania Dutch population's hand-crafted expertise to implement our innovative designs.
Eye-Catching and Shade-Producing Market Umbrellas
All hospitality venues require market umbrellas for their outdoor areas. Cruise ships, theme parks, water parks, hotels, and restaurants with outdoor areas need to provide shade for their guests, and we offer the level of quality required to create the impression you want.
The market umbrellas we make at American Holtzkraft can withstand extreme weather and frequent use without showing wear. Our products are hardy and strong, skillfully hand-crafted, and designed for performance and visual appeal. We have a long history of customer satisfaction, and awards won that stand as evidence of our capabilities.
The commercial market umbrellas we produce come with an aluminum or wooden pole. Wooden poles are typically made of Northern Ash timber, but customers can also choose Western Cedar or Plantation-Grown Teak. All wood options are dried with a kiln and then sealed multiple times with marine-grade sealant in the preferred finish. An aluminum pole flush guard will keep the wooden pole from breaking or warping due to exposure.
A unique feature that you'll find within the American Holtzkraft catalog is wind resilience. By designing this model with a dual-vented canopy that rotates 360°, it can stand strong against high winds up to 74.5 mph. Wind tunnel testing, with video evidence, proves this capability.
Our clients can also design the market umbrellas they purchase to suit their needs perfectly. Pole composition, stand and stanchion, canopy design, and other features can be personalized. Apply branding details to your customized design to take advantage of a key opportunity.
Canopy fabrics used for our market umbrellas are made for outdoor environments. The fabrics that we choose resist:
UV ray penetration
Staining
Fading
Wear
Heavy maintenance requirements.
Investing in market umbrellas for your business demands that you prioritize quality and durability. The typical patio umbrella is simply inappropriate for commercial environments. We offer fully suitable site furnishings for businesses, and we pair our furnishings with refurbishment services for the products we create and those of our competition.
Our market umbrella models are quite varied, but each model meets our strict safety standards. We prioritize safety to the extent that we no longer offer cantilever umbrellas.
American Holtzkraft commercial umbrellas provide the heavy-duty outdoor suitability needed for hospitality venues. Contact us via phone at 570-539-8945 or by email at [email protected] to discuss your needs. We'll be happy to help you design the ideal market umbrella for your business and any other site furnishings for outdoor spaces.