High-End Commercial Umbrellas
Have you noticed fewer customers enjoying the services of your restaurant, theme park, resort, or other outdoor hospitality space on sunny afternoons? Perhaps your design plan could use an update with a few high-end commercial umbrellas from American Holtzkraft taking center stage.
A well-crafted market umbrella will keep your guests shaded throughout the day and allow for comfortable eye contact. Our umbrellas are impressively durable, so the investment will last for a substantial length of time.
Creative Additions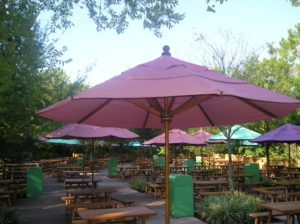 Market umbrellas are essential for outdoor eating spaces, but you can also create comfortable outdoor lounges for relaxation, waiting, and entertainment. Cabanas and daybeds offer privacy and shade that will allow your guests to enjoy their time more thoroughly.
Decorative features can also contribute to a pleasing outdoor design. As you develop a layered lighting plan for nighttime seating, stone features for additional shade, separation, and interest, and water and fire features for soothing ambiance, remember that furnishings, when designed well, also contribute to a synergistic design.
With an American Holtzkraft market umbrella, you can choose the size and shape that best fit the space and its purposes. We generally suggest that the rule of thumb is to choose an umbrella two feet longer than the table on each side. The easement this creates will allow those seated to be shaded even as the sun moves across the sky.
When you buy market umbrellas from us, you will receive a hand-crafted piece of workmanship that will stand up against heavy use and natural elements.
We produce wooden and aluminum market umbrellas. The wooden umbrellas consist of Northern Ash. All of the canopies on our umbrellas are made from durable fabrics with special additives that resist staining, ripping, weathering, and fading. Even the connecting pieces are made of the best materials and installed to promote less wear.
Additional features of our wooden umbrellas include a lasting varnish that resists damage from water and sun exposure and wood stains that add rich color and protection.
The aluminum market umbrellas we produce incorporate a solid aluminum hub that facilitates rib connection through stainless steel pins and large screws. This direct connection makes repairs simple – without removing the umbrella from its location.
The standard features of aluminum market umbrellas are meant to improve and lengthen the life and strength of the umbrella. These include a rotating component that makes the umbrella wind resilient, components that facilitate easy use and protection from corrosion, specially designed stitching to secure the canopy to the frame, and more.
Buy from American Holtzkraft
American Holtzkraft has been producing world-class market umbrellas, daybeds, cabanas, and other site furnishings since 1985. We operate out of Mount Pleasant Mills, PA, and use the local abundance of Northern Ash hardwoods and expert craftsmanship of the Pennsylvania Dutch community.
We are a female-owned company that puts safety first, ALWAYS.
The stands we provide for our market umbrellas are secure, and we offer variations to suit all environments.
Our Florida customers can arrange for a SAMs visit, where we come in and evaluate the Safety, Aesthetics, and Maintenance of your outdoor furnishings and design.
American Holtzkraft produces high-end commercial umbrellas for elite restaurants, theme parks, and other hospitality businesses. Call (570) 539-8945 for assistance or to place an order.