High-Quality Hotel Patio Umbrellas
The high-quality hotel patio umbrellas in the American Holtzkraft catalog provide safe, custom, and cost-effective long-term solutions for outdoor spaces. We serve some of the foremost hospitality venues across the globe.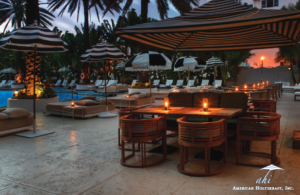 Since American Holtzkraft began in 1985, we have focused on total customer satisfaction by designing site furnishings made with the finest materials, by the most capable hands, and according to innovative plans. Our company is based in Mount Pleasant Mills, PA, and is entirely female-owned.
The American Holtzkraft catalog includes many site furnishings marked by visual appeal, personalization, quality, and diversity. We produce commercial umbrellas, daybeds, cabanas, accessories, and other unique site furnishings.
Prioritize Market Umbrellas
Market umbrellas matter to hospitality venues. They're required for outdoor spaces that welcome guests. An investment like this must be durable, easily maintained, highly functional, and visually impressive. When guests enter your outdoor spaces, they must be impressed by the areas that greet them.
Hotels, resorts, theme and water parks, restaurants, cruise ships, and other hospitality businesses worldwide shop our catalog. American Holtzkraft produces the site furnishings that our clients need for their outdoor spaces – including umbrellas, cabanas, daybeds, and other custom pieces. We work to the complete satisfaction of our customers, doing everything within our ability to create mistakes when they occur and meet all customer expectations.
Features of the Finest Market Umbrellas
Market umbrellas that serve hotel patios go well beyond what you find with typical residential umbrellas. American Holtzkraft market umbrellas check all of the boxes that hospitality venues require. They're strong and personalized according to the needs of the individual venue. We offer different stabilization options that promote the security and safety of our pieces and their installation.
Innovation and customization are the keys to the American Holtzkraft production process. We have several design patents and use the finest materials. The results are remarkable and allow us to continue earning customer loyalty.
High winds might usually destroy market umbrellas, but American Holtzkraft produces the most wind-resilient commercial umbrellas available. We can provide video evidence of wind tunnel testing where our market umbrellas stand strong against winds up to 74 ½ mph. The wind-resilient model features a canopy with dual venting and 360° rotation.
Market umbrellas used by hotels should have smooth operations, minimal maintenance needs, and absolute stability. That's what we deliver, and then some.
The visual appeal of American Holtzkraft market umbrellas is without question. We offer personalization and branding opportunities. The color, design, shape, pleating, stitching, logo design and placement are all on the table for designation by the customer. You can even take advantage of exclusive use rights when you have the perfect design for your company.
Features that aren't optional include protection against fading, staining, wear, UV penetration, and safety.
The commercial umbrellas that we offer can also feature wooden or aluminum poles. The wooden options are slow-dried via kiln, primarily available in Northern Ash but also in Plantation-Grown Teak or Western Cedar.
Repair and refurbishment services are also provided; we have a dedicated space specifically for this purpose.
Portray your brand and welcome guests appropriately to hotel patio spaces with high-quality umbrellas made by American Holtzkraft. Learn more by calling (570) 539-8945 to speak with our design team today, or click here to browse our online gallery!