High Wind Patio Umbrellas
High wind conditions are one of the key concerns regarding any commercial patio umbrellas. American Holtzkraft produces the most wind-resilient market umbrellas available, created with patented designs, first-class craftsmanship, and high-end pieces to fulfill the demands of hospitality businesses.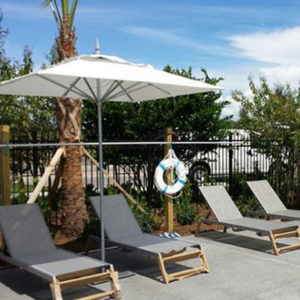 American Holtzkraft is a proud female-owned company with operations in Mount Pleasant Mills, PA, since 1985. 
Highlights of American Holtzkraft:
Makes the ultimate in commercial umbrellas, daybeds, cabanas, and additional site furnishings;

Top-notch and durable wind-resilient market umbrellas;

Crafted by the Pennsylvania Dutch population;

Wooden poles made primarily from Northern Ash but also Plantation-Grown Teak or Western Cedar;

Canopies made of high-quality fabrics with options regarding colors, designs, textures, valances, pleating, stitching, etc.

Several shapes available, including square, rectangle, round (octagon), and decagon;

Logo printing and design assistance.
Plan Out Your Purchase
Direct planning of your American Holtzkraft market umbrella is easy with a call to the team. 
Our team will allow you to create the ideal custom design; the best layout for the space, purpose, and number of settings; and even the most appropriate configuration, number of umbrellas, and other site furnishings needed. Our experts will help make sure that your purchase is ideal for your business's needs and budget.
As professionals, American Holtzkraft's team stands behind all orders and fulfillment needs. All mistakes we make are corrected on time and appropriately.
Made-to-order and built-to-last, American Holtzkraft market umbrellas are meant to be used in exterior spaces. Being outside, amid sun, precipitation, and wind, they still need to appear as great as they do on Day One. 
The canopies we use are less likely to fade, mold, mildew, tear, stain, or show wear than those of other companies. The poles are also designed to withstand exposure to humidity and moisture, being made of hardwoods or aluminum with multiple layers of marine-grade sealant.
The wooden poles we offer are of Northern Ash for the most part. This hardwood is the hardest of all the hardwoods grown in North America, even used for building baseball bats. We also offer Plantation-Grown Teak and Western Cedar as options. The wooden pole options are generally chosen for permanent stations, while mobile needs are more easily met with aluminum pole umbrellas.
Creating a market campaign and including the site furnishings used in your facility can be a powerful way to solidify the campaign in your customers' subconscious. Whether you do so with your choice of color or design or choose to add branding to the canopy, American Holtzkraft can fulfill your expectations.
The safety of the furnishings we create is integral to our design. Our wind-resilient patio umbrellas have a dual venting canopy that will fully rotate around the pole, allowing the wind to flow rather than resist the winds.
American Holtzkraft commits to safety above all else. Every single transaction is meant to achieve satisfaction. When we fail to satisfy the first time, we'll correct the mistake, doing all we can to achieve customer satisfaction. 
Beyond producing market umbrellas, cabanas, daybeds, and other custom site furnishings, we also offer repair and refurbishment services. Our Florida clients can also schedule an on-site SAM visit to check your site's Safety, Aesthetic, and Maintenance status.
The leading name among the producers of patio umbrellas, American Holtzkraft has an incredible range of custom options and special designs, including those that can stand firm in the face of high winds. To place an order or ask questions, contact (570) 539-8945 or email [email protected].