Hospitality Umbrella Manufacturer
Hospitality companies needing a quality umbrella manufacturer to source their essential site furnishings should strongly consider American Holtzkraft. We offer a wide range of wooden and aluminum commercial umbrellas, cabanas, daybeds, and other custom site furnishings to various hospitality businesses ranging from hotels to water parks, theme parks, restaurants, resorts, and more.
Furnish the Exterior Areas with American Holtzkraft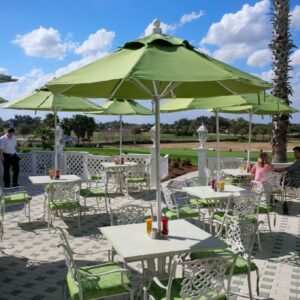 The durable and beautiful site furnishings that we create at American Holtzkraft are heads above the competition. We're a female-owned small business with a focus on client satisfaction. Our headquarters in Mount Pleasant Mills, PA, has an ideal location, with proximity to Northern Ash hardwood forests and the area's Pennsylvania Dutch craftsmen. Since 1985, we've met the site furnishing needs of hospitality venues with innovative furnishings made with expertise and fine materials.
Our focus on customers means that all mistakes are made right, without fail. Allow us the opportunity to correct ourselves, and you won't be disappointed.
Complete the Hospitality Exterior
When market umbrellas are an essential element of the outdoor setting, the umbrellas need to live up to the environment. Whether dining, lounging, or entertaining, ensure all patrons experience the comfort and sense of completion that site furnishings should provide.
We make commercial umbrellas and other site furnishings that meet these aesthetic and functional needs while providing durability season after season. The designs of our pieces and the materials and methods we use result in solid and long-lived pieces.
Take advantage of our expertise if you're a decision-maker for your company but hesitate to make decisions out of your wheelhouse. The customer service staff here will happily guide you as you identify and design the ideal site furnishings for your venue.
The shape, size, and number of the market umbrellas are the first features that you'll need to determine. To make these decisions, consider the setting that needs to be shaded. How big is it? What features are in and around it?
The shape of the umbrella should mirror the furniture and features around the area; the size should cover the area plus 2′ for shade accommodation as the sun moves throughout the day; and the number should be sufficient to meet your capacity needs without overcrowding the space and allowing for walking and movement. You might need some help with these layout plans. We can help. It's what we do, and the process will be completed faster and more effectively.
Next, you'll make a series of other decisions:
Pole – aluminum or wood
Shade of pole finish
Single-vented or double-vented canopy
Lighting
Automatic-opening
Canopy color
Canopy design
Canopy texture
Canopy pleating
Canopy trim
Canopy stitching
Logo design and placement.
Stand and stanchion system.
When you invest in American Holtzkraft market umbrellas, you'll enjoy durable furnishings that are easily repaired on-site and refurbished when they eventually look worse for wear. We repair and refurbish our creations and those of our competitors. Our Florida clients can also schedule SAM visits with us. During these visits, we will check out the exterior spaces regarding the design's Safety, Aesthetics, and Maintenance aspects.
American Holtzkraft is a premier hospitality umbrella manufacturer. Whether you need newly crafted pieces or refurbishment services, reach out to our team by email at [email protected] or by phone at 570-539-8945.