Hospitality Umbrella Manufacturers & Suppliers
American Holtzkraft, one of the premier hospitality umbrella manufacturers & suppliers in the world, produces site furnishings of various shapes, sizes, and styles to meet the functional and aesthetic demands of the industry.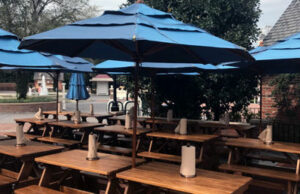 Mount Pleasant Mills, PA, is the home of American Holtzkraft. First established in 1985, the site furnishing producer was born from innovation and perfected through commitment, the choice of fine materials, and the quality of expert craftsmanship. We are a women-owned small business that creates the most remarkable market umbrellas, daybeds, cabanas, and other custom site furnishings.
For over three decades, we have developed and crafted world-class furnishings. The personalization that we offer is as important as the quality, and we also prioritize 100% customer satisfaction.
Our commercial umbrellas come with a diversity of features, starting with wooden or aluminum poles and continuing with various canopy options and base systems.
American Holtzkraft Market Umbrella Features
Shape – We offer commercial umbrellas in four different shapes – octagon, rectangle, decagon, and octagon (round). When making this selection, mirror the shape of the space being shaded and the features surrounding it.
Size – The size of the umbrella refers to width from tip to tip, not the height. This selection should reflect the size of the space in question plus 2' of easement to account for the movement of shade from morning to afternoon and evening.
Pole – Wooden poles versus aluminum poles is the question to answer. Wooden poles will be made of Northern Ash unless otherwise requested, slow-dried via kiln, and multi-laminated in your choice of natural, mahogany, Stonehenge gray, whitewash, black enamel, or white enamel finish. Alternatively, the aluminum pole provides strength available in brushed aluminum or powder coat finish.
Hub and hardware – A multi-laminated hub and finial provide the structure for the canopy and is put together with stainless steel and solid brass hardware. These quality materials allow the umbrella to function well despite exposure and use.
Canopy – The fabrics that we use for market umbrellas are of the best quality, resistant to wear and tear, UV permeation, mildew growth, staining, and other damage. Customers can choose the color, design, logo design and placement, texture, pleating, stitching, and other variants.
Special features – American Holtzkraft offers an array of special features, and we have seven different patents regarding these unique features. Thatch canopies, fans, misting, a two-piece self-locking pole stand, rotating canopy umbrella, and automatic opening umbrella are a few of the available models.
Wind-resilience – The fully rotating and dually vented canopy features of our most wind-resilient market umbrella allows it to experience high winds up to 74.5 mph before being damaged, according to wind tunnel testing.
In addition to custom site furnishings, American Holtzkraft also provides refurbishment and repair services. We have a dedicated space for this purpose and welcome products of our own brand and our competitors for processes designed to return them to like-new condition.
SAM visits provide our Florida clients with evaluations for Safety, Aesthetics, and Maintenance issues with the outdoor design. When issues are found, we can provide suggestions for remediation as well as solutions.
You'll not find superior hospitality umbrella manufacturers & suppliers than those here at American Holtzkraft. We offer a plethora of options with a standard of impeccable quality. Reach out at your convenience by calling (570) 539-8945 to discuss the site furnishings that your hotel, resort, theme park, or other hospitality venue requires.