Hospitality Umbrellas
Hospitality umbrellas of all sorts are available from American Holtzkraft. We offer sophisticated site furnishings for a wide range of outdoor venues – from hotel pools to temporary kiosks and more. Shop with us to outfit the outdoor spaces of your business well.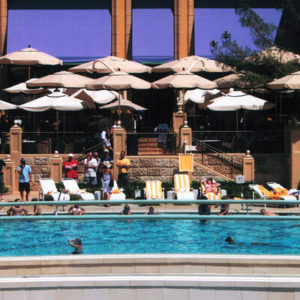 Compare our site furnishings against those of our competitors, and you'll see a genuine difference in the quality, functionality, and visual appeal. Our products are heads above alternatives in the industry. Whether you'd like a standard set of market umbrellas or built-to-spec site furnishings, contact American Holtzkraft. 
Protect Patrons from UVs and Precipitation
Restaurants, hotels, country clubs, theme parks, and other venues require the perfect market umbrellas for the spaces they will live. The right market umbrellas will parallel the shape of the table and include a two-foot easement on all sides to provide adequate shade as the sun moves through the sky during the day. This planning will mean no glare on one side of the table during the height of the afternoon.
Achieve Easy Maintenance for Your Site Furnishings
Hospitality services are pretty involved, and your employees have plenty of tasks to do throughout the day. American Holtzkraft market umbrellas and other site furnishings are made with fabrics and materials meant to promote easy care, and they resist wear often caused by exposure to the elements.
Prioritize Quality
Quality will be baked into the design when you collaborate with American Holtzkraft for market umbrellas and other site furnishings. We support all of our products, standing behind each transaction and doing whatever is needed to provide satisfying results.
Our reputation in the site furnishing industry precedes us. We're known for providing high-end products made by balancing innovation, workmanship, and fine materials.
Choose American Holtzkraft
Since 1985, American Holtzkraft has produced the finest market umbrellas available. The local area offers essential human and natural resources that we leverage: the specialist of craftsmanship in the Pennsylvania Dutch community and the Northern Ash hardwoods grown in the area. Northern Ash is the hardest of the hardwoods in North America, used to make baseball bats. 
Custom-made, hand-crafted commercial umbrellas, cabanas, daybeds, and other site furnishings are needed by hospitality venues worldwide. We employ the finest materials and ingenious designs, producing the best products. We have six different patents and create the most wind-resilient market umbrellas available. During wind-tunnel testing, this umbrella model can withstand up to 74.5 mph winds before experiencing damage.
Choose Umbrella Features
Market umbrellas must be made with canopies composed of durable fabrics. Exposure to the environment can be harsh. If you want them to withstand the tests of time, canopies must wear well. American Holtzkraft fabrics are designed to resist wear, provide easy maintenance, avoid mold growth, and block UV rays and sun glare. 
We also make customizing this canopy easy. Choose the appropriate texture, shape, size, design, color, pleating, stitching, and logo placement for your hospitality space.
You can also choose between a wooden (Northern Ash, Western Cedar, or Plantation-Grown Teak) or aluminum pole to support the canopy of the market umbrellas.
The hospitality umbrellas that American Holtzkraft offers for hospitality venues will work well, operating smoothly and providing an excellent visual appeal. Discover the potential by checking out our online catalog and give us a call at (570) 539-8945.