Hotel Pool Umbrellas
Hotel pool umbrellas from American Holtzkraft elevate the surroundings at hospitality spaces worldwide, providing the perfect balance of ambiance and comfort. In combination with our fully custom designs, we also provide quality that is second-to-none in every single build.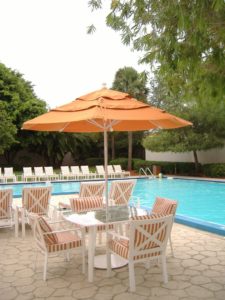 American Holtzkraft is a premium producer of market umbrellas, established in 1985 and female-owned and operated. We make good use of our local resources, natural and human. The local Northern Ash hardwoods and the craftsmanship of the local Pennsylvania Dutch help us produce some of the best market umbrellas available. We produce all sorts of bespoke site furnishings, cabanas, daybeds, and accessories to make commercial outdoor spaces complete.
The hotel pool is often the highest amenity on guests' must-have lists of hotel features. This space will be judged based on appearances, so the umbrellas can't be just high quality. They must also provide the right appearance. This element is a dealbreaker for quality hotel pool spaces.
While hospitality venues like yours require market umbrellas, we offer custom designs and all sorts of site furnishings. Schedule a consultation with our team to arrange for your preferred features, and we will design and produce functional and aesthetically perfect outdoor features for your venue.
What Makes American Holtzkraft Umbrellas Stand Out
Commercial market umbrellas are meant to be safe and sturdy in a way that goes far beyond the typical patio-style umbrella. We produce umbrellas that are absolutely safe and withstand wind tunnel testing in excess of 75mph. Our installation measures are engineered for superior safety performance, and we hold six different patents for our products.
Durable market umbrellas from American Holtzkraft have dual vents and a rotating canopy to withstand winds up to 74.5 mph. This ability, proven through wind tunnel testing, stands out in the world of site furnishings and is one of the most significant reasons for choosing our custom products.
Our umbrellas provide strength, durability, and smooth functioning of the hardware, and the canopies are also incredible. Resistant to fading, strong material, UV protectant, and easily cleaned, American Holtzkraft umbrellas are made of the best canvas materials. We offer a plethora of design, texture, and color options.
Customization is a key benefit of ordering from American Holtzkraft. Our menu of choices is so deep that every company can have a uniquely designed umbrella for use. Add your company's logo, custom build the shape and size of the market umbrella to suit your needs, or choose the perfect finish on your umbrellas' aluminum or wooden poles.
If you choose wooden umbrellas, expect the hardest of all North American hardwoods, the Northern Ash. We'll apply the stain of your choice with options including Teak, Natural, Mahogany, Stonehenge Gray, White Wash, Black Enamel, and White Enamel.
The service center at American Holtzkraft maintains, repairs, and refurbishes market umbrellas and other site furnishings. We aim to help our clients project the perfect tone and provide the ideal functionality for every space we serve.
Our Florida clients can rely on our SAM visits. These visits promote the ideal Safety, Aesthetics, and Maintenance for outdoor areas of restaurants, theme parks, and hotels.
Hotel pool spaces require commercial umbrellas, and American Holtzkraft produces the most remarkable options available. For a design that perfectly aligns with the space's aesthetic and purpose, call and explore all of the custom features that are available: (570) 539-8945.