Hotel Umbrellas for Sale
American Holtzkraft manufactures hotel umbrellas for sale. Our products protect the guests, budgets, and schedules of the most elite hospitality businesses throughout the US and the world.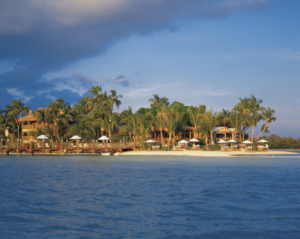 American Holtzkraft was born from a design idea and has continued in the same vein of innovation and quality materials since its founding in 1985. We are a female-owned company with headquarters in Mount Pleasant Mills, PA.
Our catalog is unlimited and filled with beautiful, customizable, and always premiere quality, from market umbrellas to daybeds, cabanas, accessories, and custom site furnishings.
Avoid Underestimating the Significance of Market Umbrellas
Never underestimate the importance of market umbrellas. Not only do they need to last, provide easy maintenance, and function appropriately, but they also need to impress a positive branding experience upon guests.
Hospitality venues including hotels, resorts, theme parks, country clubs, and restaurants make up the bread-and-butter of the American Holtzkraft business. We offer custom site furnishing construction for our clients. The market umbrellas, and other pieces, that we can supply for your outdoor commercial spaces will check off every box you have regarding expectations, and they'll meet some needs that you weren't even aware existed.
The Quality Required of High-End Market Umbrellas
The umbrella gracing the poolside of your upscale home doesn't measure up to the quality required of a commercial market umbrella. Here at American Holtzkraft, we produce stable, strong market umbrellas in various shapes and sizes. Our stabilization measures work in diverse environments to safely install our market umbrellas practically anywhere.
The innovative way we approach market umbrella construction has resulted in several patents and a variety of customized, safe market umbrella options. Every one of the pieces we construct is safe and strong.
Even wind, the enemy of umbrellas everywhere, is not a guaranteed source of failure for American Holtzkraft umbrellas. In wind tunnel testing, our patented use of a rotating canopy with dual venting is shown to withstand winds up to 74 ½ miles per hour before sustaining any damage.
The transition from open to close, and vice versa, should be smooth and simple but should not sacrifice the strength and stability of the umbrella when it's open.
The aesthetics of market umbrellas are primarily defined by their canopies. This item is the most easily customized and used for brand definition. At American Holtzkraft, we incorporate customizations regarding color, design, shape, pleating, stitching, and even logo placement alongside fade-resistant, durable, UV-resistant fabric.
Our customers can choose between aluminum and hardwood poles to support the workings of the market umbrellas. Our hardwood poles are made from slow-dried and multi-layered finished Northern Ash hardwoods. We offer clients their choice of finishes.
The customer service that we offer is extensive and considerate. In addition to producing beautiful custom site furnishings, we also provide repair and refurbishment services.
Emphasize the brand definition of your hotel with the umbrellas you choose from those for sale at American Holtzkraft. The executives, landscape designers, and others designated with selecting and purchasing site furnishings should choose the best quality possible, and that means placing a call to (570) 539-8945 or contacting us online.