Hotel Umbrellas
Update the outdoor spaces of hotel patios and poolsides with umbrellas from American Holtzkraft.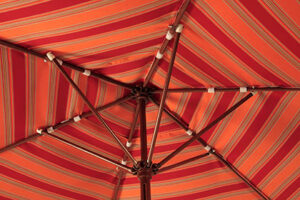 American Holtzkraft site furnishings blend advanced design, fine materials, and expert craftsmanship to create the best commercial umbrellas available. Durable and easy to use, our umbrellas are constructed with the hardest of the North American hardwoods, durable textiles, multi-laminated hubs and finials, and solid brass hardware. You'll not find a better-made, better-designed, or better-serviced market umbrella.
Hotel umbrellas are a given in the world of hospitality essentials. From the poolside or beachfront to the hotel bar or restaurant, umbrellas provide comfort for guests and contribute to the atmosphere of the space's design.
Shade is the primary use of hotel umbrellas. A day lounging by the pool or beach requires protection from too much sun exposure. The fabrics that we use prevent UV penetration and precipitation from soaking guests. Without appropriate hotel umbrellas in outdoor spaces, they would be lacking. The absence would create as much of an effect as their presence in a negative fashion.
When planning a hotel umbrella purchase, take note of a few tips and take advantage of the experts here at Ethosource for an outstanding result.
Determine the size of the umbrella by measuring the area that needs shade and then adding a 2' easement to account for the sun's movement.
Choose the shape [square, rectangle, octagon (round), or decagon] based on the condition of the area in question and the surrounding furnishings.
Invest in a durable piece that will withstand the tests of use and exposure season after season.
Select a model that offers easy use and maximum functionality.
Custom design market umbrellas that complement the style and branding of the hotel.
American Holtzkraft has been honored many times for the quality of our products and the innovative nature of the designs. We hold six different patents for products and features that we have developed, including all of the following:
Thatch umbrella
Fan umbrella
Misting umbrella
Two-piece locking pole stand
Rotating canopy umbrella
Automatic opening umbrella
The customization that American Holtzkraft allows is impressive. We're able to make orders to specification without sacrificing quality. Call on our team for ideally suited umbrellas, cabanas, daybeds, or other site furnishings.
From specific canopy colors and patterns to valances, trims, panels, and stitching, we will design the canopy as you see fit – even adding screen-printed logos of your brand.
If you desire exclusive use rights for your design, we can also arrange that. You'll want to prevent duplication when your design perfectly suits your brand.
Other services include refurbishment and repair and SAM visits (for Florida clients only). Bring us your used and worn-out site furnishings, of our brand or others, and we'll return them to like-new condition. During a SAM visit, we will evaluate and remediate deficits related to the Safety, Aesthetics, and Maintenance elements of our Florida customers' venues.
Contact American Holtzkraft when you need the best-made hotel umbrellas on the market—call (570) 539-8945 or email [email protected] to discuss placing an order. When you do, you can be sure that your products will be top-notch and perfectly suit your needs, or we'll make it right every time.