Large Commercial Outdoor Umbrellas
The most elite hospitality venues in the world use the large commercial outdoor umbrellas we manufacture at American Holtzkraft. The combination of next-level innovation and Pennsylvania Dutch craftsmanship mark our custom umbrellas, cabanas, daybeds, and other site furnishings as the best available.
Diverse Range Shapes and Sizes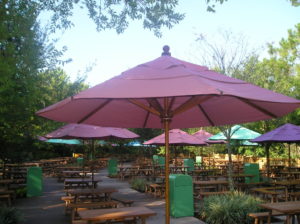 Our clients operate in various environments. We facilitate this with stabilization systems for all types of locations and functions. Many of our designs can also be repaired on-site as needed. When issues requiring repair or the age of the market umbrellas demand service, American Holtzkraft offers an extensive service center where we provide both repair and refurbishment to help our clients save money where possible.
The statement made by our canopied market umbrellas is remarkable. Our unique solutions run the gamut of site furnishings, catering to the needs of all ventures within the hospitality arena. The only limit to our creations is safety, and customer needs and preferences guide us.
American Holtzkraft provides market umbrellas with rectangle, decagon, square, and octagonal (round) shapes in various sizes up to 15 feet. The canopies of our umbrellas can be screen-printed with your custom logo to extend the functionality of the pieces into branding.
The risk associated with using market umbrellas increases with the size of the umbrella. However, American Holtzkraft employs the most advanced mechanisms to ensure stability, and we have even developed the most wind resilient market umbrella available. This specific model has withstood winds of up to 74.5 mph before experiencing damage during wind tunnel testing.
The top-notch quality and long life of American Holtzkraft market umbrellas make investing in them a terrific option for businesses concerned about the expense. Our clients generally include:
Resorts
Theme parks
Hotels
Tourist centers
City centers, parks, etc.
Restaurants
Country clubs
Other hospitality and service businesses
Our catalog is available online, and you can rely on our ability to custom-build any furnishings required to meet your operational, design, or branding needs.
The functional purpose of the market umbrella is to protect patrons from the glare, heat, and UV rays of sun exposure. Beyond this, a market umbrella can establish the boundaries of a seating area, add to the tone of a space, and contribute to the brand imagery through overt logo placement or a thematic choice of color or design.
Why Choose American Holtzkraft
For the best commercial umbrellas available, choose American Holtzkraft. Since 1985, we have leveraged ingenuity, craftsmanship, and the best materials to produce our products. Being headquartered in Mount Pleasant Mills, PA, we can access the hardest of the North American hardwoods, the Northern Ash, and the craftsmanship of the Pennsylvania Dutch population.
Beyond the custom site furnishings we create, we also offer a substantial repair and refurbishment facility to help maximize our clients' budgets. Clients located within Florida can sign up for a SAM evaluation, where we identify any problems with the Safety, Aesthetics, or Maintenance features of your outdoor design and furnishings.
Enhance the large outdoor spaces at your venue with commercial umbrellas custom-made by American Holtzkraft. We're happy to provide professional guidance as you choose the best design for your space, create a custom branding image, or place an order for site furnishings. Call us at (570) 539-8945.