Large Commercial Patio Umbrellas
Do you need to furnish the outdoor spaces of a restaurant, theme park, or other hospitality venue with large commercial patio umbrellas? If so, rely on the workmanship and ingenuity of American Holtzkraft.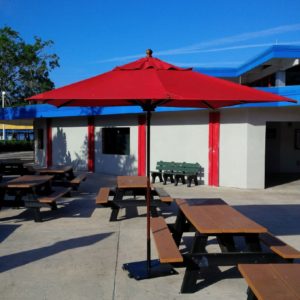 Fine-tuned over 35+ years in the business, American Holtzkraft produces safe, long-lasting market umbrellas, cabanas, daybeds, and other site furnishings. Invest in the best for the finest quality that will withstand the tests of time and environmental challenges.
With six separate patents, the strength of the strongest hardwood in North America, and the diligence and skill of the Pennsylvania Dutch craftsmen in the area, American Holtzkraft fully leverages our fortunate location in Mount Pleasant Mills, PA.
The American Holtzkraft commercial umbrella is a blend of science and art. Handmade with a custom design, our products are made from the finest materials and expert hands in the US. The value of our umbrellas is a diverse quality based upon customizations, safety, durability, and ease of use.
American Holtzkraft is so incredibly proud of the recognition we've received for the design of our umbrellas. The ADEX, or Award for Design Excellence, is particularly significant. As the elite awards program for design in the A&D industry, these awards mean quite a bit, and we're proud to have received them.
The Features of American Holtzkraft Umbrellas
Commercial umbrellas consist of a supportive pole made from either wood or metal, a base to support the pole, and a fabric canopy to create shade.
The umbrella canopy of American Holtzkraft market umbrellas is resistant to weathering, fading, and UV rays. The fabrics we use come in a diverse range of designs and colors, and clients can adjust the design to modify sewing patterns, embellishments, and stitching.
We create commercial umbrellas in a variety of sizes to suit different spaces. When you're purchasing market umbrellas, make sure that the canopy is a couple of feet wider than the area in need of coverage. This easement should make up for the movement of the sun during the day. Our customer service team is always happy to help determine the best options among all of the features for your space's perfect market umbrella design.
The quality of the pieces used to compose American Holtzkraft umbrellas is second-to-none. The brackets, grommets, and screws that we use are all solid brass and sealed with clear lacquer. The hardware is all stainless steel to withstand marine environments, and the design includes aluminum flush pole guards to protect from swelling.
Market umbrellas, by nature of their use, can be dangerous. American Holtzkraft is committed to safety. We avoid using cantilever systems because of the hazard they pose, and we employ the industry-standard in market umbrella base technology.
Wind tunnel testing of our umbrellas has proven our market umbrellas to be incredibly resistant to wind. Our umbrellas can withstand up to 74.5 mph winds before any damage occurs. We're quite proud of these results, and you can review them on our website.
Discover the quality and versatility of American Holtzkraft commercial patio umbrellas, whether you need a small, standard, or large version. We can also create bespoke site furnishings to meet your needs. If interested, call (570) 539-8945 to work out the details.