Large Commercial Pool Umbrellas
Upscale hotels, country clubs, and other venues require large commercial pool umbrellas like those provided by American Holtzkraft. We offer the necessary substantial umbrellas for shading party tables and other large spaces for an elegant poolside experience.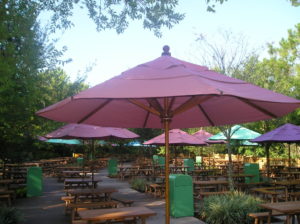 The purpose of a market umbrella is the obvious protection from the sun's rays and light precipitation. Still, it can also elevate the area by drawing the eye, unifying the space, and promoting the brand through the subtlety of color choice or a printed logo.
American Holtzkraft – The Obvious Choice
The standard in commercial umbrella producers, American Holtzkraft, has been in operations since 1985 and is headquartered in Mount Pleasant Mills, PA.
Sourcing the abundant locally grown Northern Ash hardwood and the brilliance of the Pennsylvania Dutch workmanship, American Holtzkraft produces the most durable custom market umbrellas in the world.
While our catalog includes an abundance of market umbrella models, we aren't limited to umbrella production. We also create cabanas, daybeds, and all sorts of other bespoke site furnishings for hospitality businesses.
In addition to these products, we house a full repair and refurbishment service center, helping businesses extend the lives of existing equipment. Our Florida clients can even schedule a SAM visit for us to evaluate the comprehensive Safety, Aesthetics, and Maintenance of your pieces, layout, and design.
Bespoke Market Umbrellas
The numerous choices of size, style, shape, color, texture, design, stitching, pleating, and even pole type make our umbrellas genuinely custom. We're always available to assist the landscape architects, designers, and other decision-makers in designing the ideal umbrella and estimate the number to buy.
All of our umbrellas are easy to clean, resist fading and wear, and stand up against high winds.
Down to the last detail, the design of our market umbrellas is consistently focused and high-end. We use solid brass hardware and multi-laminated hubs and finials as well. In a side-by-side comparison, our umbrellas excel against any competing market umbrella.
The enemy of market umbrellas is high winds. Rather than sending workers scurrying like ants to take down the umbrellas when in danger, choose American Holtzkraft instead. They'll withstand winds up to 74.5 mph, as demonstrated by wind tunnel testing.
Market Umbrella Pole Options
The poles used to create American Holtzkraft market umbrellas can be either aluminum or Northern Ash hardwood. They'll have an additional varnish finish that is marine-grade to maximize durability. Wooden poles are kiln-dried and sealed with a wood stain in your choice of color for an even greater elevation of the umbrella's appearance.
The durability of our market umbrellas is also provided with standard aluminum qualities. Our common-sense approach to design inspired us to create a system that can be readily repaired on-site without interrupting the flow of the workday or sending events into a tailspin.
We recognize that mistakes happen, and repairs become necessary. American Holtzkraft stands behind every sale and pledges to satisfy customers with quality service and fine products.
Add large commercial pool umbrellas to the patio spaces of venues to contribute a dramatic flair to any hospitality space. American Holtzkraft umbrellas provide an investment opportunity that will offer all comers an atmosphere of elegance and comfort. To discover more about our umbrellas, check out our online catalog or call (570) 539-8945.