Large Commercial Umbrellas
Large venues require adequate commercial umbrellas to provide coverage and ambiance. American Holtzkraft provides all sizes of market umbrellas in a variety of shapes and appearances. We're positioned to meet the needs of all hospitality endeavors, including hotels, country clubs, resorts, theme parks, water parks, and restaurants, with custom-designed site furnishings.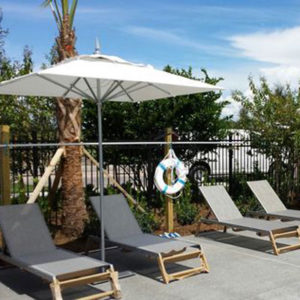 A stand-out market umbrella from American Holtzkraft is heads above the competition. The innovation, fine materials, and world-class craftsmanship that we incorporate into each piece we create are well worth the investment. Each piece will fit the scope of your needs, functionally and aesthetically, of your venture for years to come.
Eye-Catching and Reassuring
The purpose of the custom market umbrellas we provide is multifold. In addition to drawing the eye and helping direct the flow of movement through the space, a market umbrella fulfills the functional need for shade in outdoor settings. To accomplish this purpose, make sure that the size you order provides a two-foot easement on all sides to accommodate the sun's movement throughout the day. Our catalog includes rectangular, octagonal (round), square, and decagon umbrellas from small to large.
Quality from Season to Season
The quality of your commercial umbrellas needs to be consistently high. American Holtzkraft produces site furnishings that can be cared for easily and counted on to function year after year. With customer service that is second-to-none, you can be sure of a satisfactory outcome when you purchase from us.
The Convenient Maintenance of Site Furnishings
American Holtzkraft market umbrellas resist stains, sun-fading, and wear from use. We create mobile products as well as those that are easily repaired in the field. The labor diverted to maintaining and repairing market umbrellas should be considered when purchasing.
Why Choose American Holtzkraft
American Holtzkraft, since our founding in 1985, has offered clients the absolute best site furnishings available – including market umbrellas, cabanas, daybeds, and made-to-spec creations.
The highest quality materials we use include Northern Ash hardwood, solid brass fittings, and durable, fine fabrics. Our mission is to incorporate quality and innovation into each order along with the best workmanship.
Hand-crafted in the US, American Holtzkraft market umbrellas are made according to patented innovations and customer preferences with several Awards for Design Excellence, or ADEX, honors received over the years.
Our six patents demonstrate the unique quality and functionality of American Holtzkraft market umbrellas. Two such innovations include a rotating canopy along with dual venting. These features produce wind resilience up to 74.5 mph in wind-tunnel testing.
Customized Canopy Design
The market umbrella canopy design should be within the aesthetic range of the overall venue. We use long-lasting textiles in various colors and designs with custom chosen stitching and pleating. Not only will we provide a market umbrella that suits your brand, but it will also last for years, function appropriately, and resist mold, mildew, fading, and staining.
At American Holtzkraft, the custom combinations are limited only by imagination, and we can cater to all brands and purposes.
Large commercial umbrellas from American Holtzkraft are ideal for a wide range of venues and event types. We welcome you to peruse our online catalog to view the various pole and canopy types and the extra features we offer. Discover more about American Holtzkraft processes, products, and promises by calling (570) 539-8945.